A Guide To Personalizing Your Casket Decoration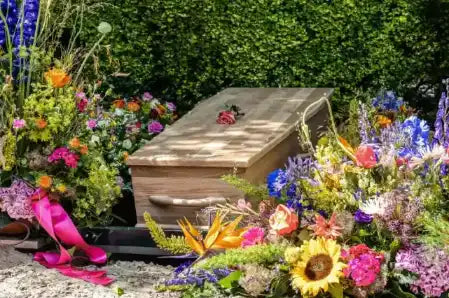 Why Decorate A Casket
Casket decoration at a funeral has become an increasingly popular trend as people are moving away from the old concepts of very plain funerals and opting for a more personalized touch to honor their loved ones. If you are looking for inspiration for a loved one's funeral, here are some casket decoration ideas that are used by people all over the world.
Floral Casket Decoration Ideas
Flowers remain one of the most universal choices when it comes to decorating a funeral casket. Luckily floral casket decorations come in many shapes and forms. A few of them are:
Full casket spray - a full length blanket of flowers

Half casket spray - a half length blanket of flowers, usually for open casket ceremonies

Wreath - an assortment of flowers in the shape of a circle or ring, generally placed on a standing easel

Cross - a wooden cross adorned with flowers for religious funerals

Heart - similar to a wreath but shaped like a heart instead of a circle

Garland - this is also similar to a wreath but it remains as a long line instead of closing into a loop
Other Casket Decoration Ideas
Customized caskets - If you are open to buying a

casket online

, many retailers give you the option to have a casket made-to-order entirely according to your design preferences. This means you can have any print or even picture on the exterior of the casket if you choose to honor your loved one this way.

Career coffin - In countries like Ghana, often the coffin of the deceased is designed very creatively to represent their profession. For example, a carpenter's coffin would be shaped like a giant hammer.

Notes and letters - A casket decorated with handwritten notes can be a great way to capture sentiments on such a significant occasion. 

Colored caskets - Most casket retailers, especially online, offer each model of casket in several shades, sometimes as many as 20 shades. This gives you a lot of room to make the most suitable choice for the best tribute. 

Inlays - In some caskets, you can opt for inlays in different colors or materials to accentuate the aesthetic appeal, which might be especially suitable if the deceased was an artistic person.

Sports themed - If the deceased was an athlete or just someone who was passionate about sports, you might choose to decorate the casket with a sports jersey or other similar paraphernalia.

Casket wraps - Casket wraps are plastic wraps with a design of your choosing that can be wrapped around the casket. It could be a photograph or just a pattern.

Quilt - If the person who passed was keenly interested in knitting or sewing, you can use something they made to decorate the top of their casket. 

Photographs - People choose to put meaningful photographs on top of the casket. This can be very useful in situations where there is no viewing at the funeral.

Handprints - Some people like to leave handprints of themselves on their loved one's casket as a unique way of wishing them farewell.

Engraving - You can choose to engrave any words or a phrase that is meaningful to you or the deceased into the casket.

Flag and medals - This is a very popular choice for the death of a veteran as such funerals tend to have an overall patriotic theme.

Glitter - Though you might wonder if this is appropriate, many people use glitter or other means of bejeweling because it best represents the personality of their loved one. Sometimes caskets are crafted with rhinestones on the exterior.

Casket material - The material you choose for the casket used can also be a means of expression, for example, people might choose a pine box casket for the passing of someone who was very environmentally conscious.

Religious items - For religious people or  members of the clergy, often their religion played a significant role in their lives. Decorating their casket with religious items could be the perfect tribute to their loss. 

Special symbols - Depending on the preferences or passions of the deceased, loved ones sometimes place objects that hold a lot of significance for them on top of the casket, for example stuffed animals or jewelry.

Music themed - In the event of the death of someone who was musically inclined, some people place a small instrument like a ukulele or some sheet music on top of the casket.
While hopefully this list can help you make the right decision for the funeral casket you are decorating, it is not an exhaustive list and you can use your judgment to decorate the casket with objects or embellishments that you think fit well.