Orange caskets: Their relevance and how to buy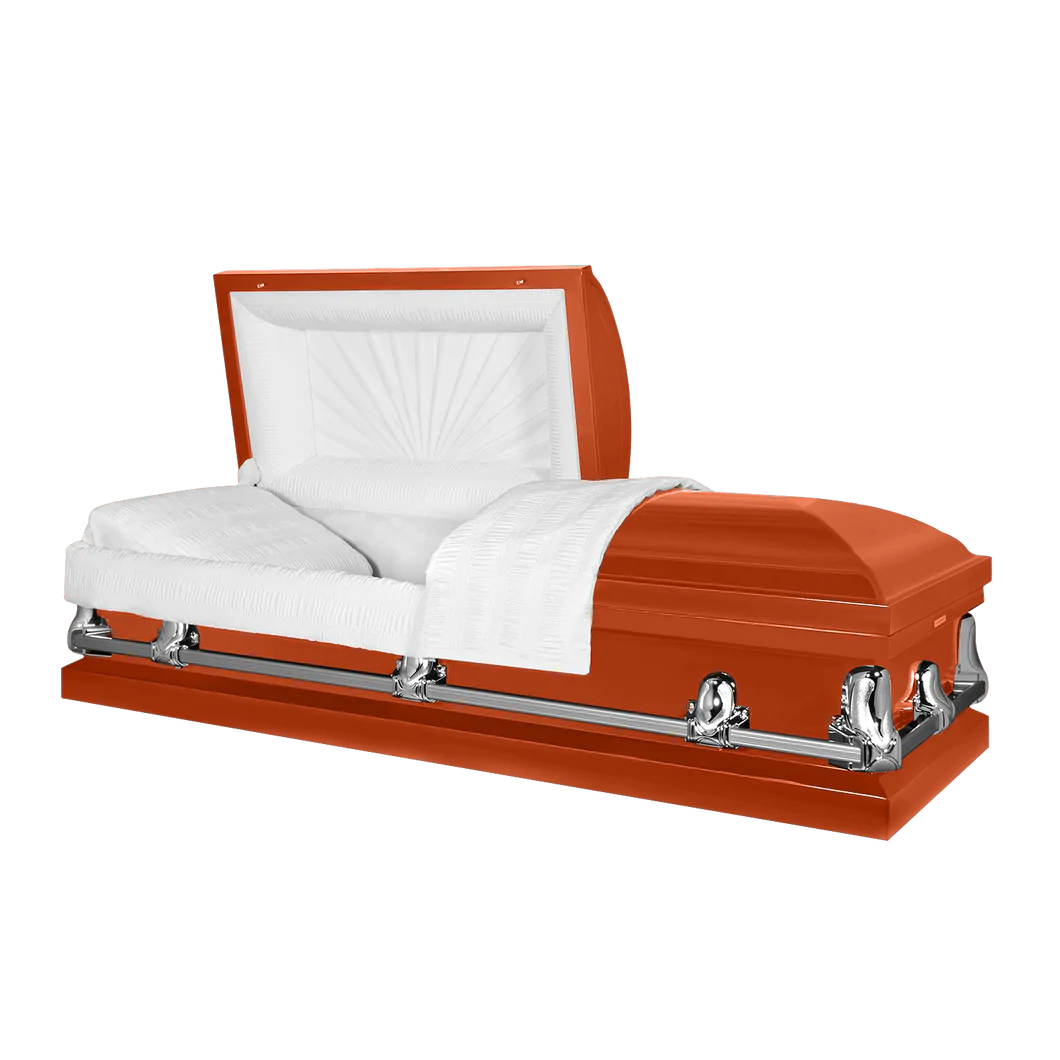 Orange colored caskets And Their significance
Picking the right color for the casket of your loved one is an important aspect of funeral planning. Orange is a warm color and is used when you want to symbolize the vibrant and energetic personality of your loved one. You can shop for an orange casket online but before that it helps to understand when to buy an orange color casket.
When should you pick the color orange for a casket?
There are many situations in which you can pick an orange casket and here are some of them:
If your loved one was still in their youth
Orange is a color that symbolizes youthfulness so you could pick an orange color casket if your loved one was gone too soon. Caskets made of steel or wood, cloth, cardboard or even fleece can all have an orange finish. When you pick an orange casket for your loved one's casket, it reflects the age of your loved one and honors their youthful nature.
If you want to reflect the feminine spirit of the woman in your life
If your dear departed was a woman and you want a casket to honor her feminine spirit, you may pick a female casket with a bright orange hue as a finish. The color orange is an ideal tribute for a woman who touched your life with her positivity, charm and spirit.
If your loved one was a creative person
Pick an orange casket if your loved one is a creative person as the color is symbolic of talent and creativity. If your loved one was a singer, painter, writer, artist or loved any art form, you can pick a bright casket to lend meaning. 
If your near one was an adventurous spirit
Pick a bright casket for a person with a love for adventure – if the person was a trekker, sportsperson or someone who loves taking off on other adventures, choose an orange casket to symbolize their wild spirit.
If the color orange is in line with a theme
If you have planned a funeral with the orange color or Fall/autumn seasonal theme, you should pick the color as part of it. In such a situation, you could pick a bright casket, with Fall colors like orange as the finish so it fits in with the theme.
Orange and its connection with Nature
Orange is associated with Halloween and Thanksgiving and is an autumnal color. It signifies a time when there is a harvest and nature offers its bounties. The color of pumpkins and fall leaves come to mind when you think of orange. 
Why colors matter?
Colors have the capacity to convey meaning apart from making an impression on your emotions and moods. This is why the choice of colors plays a key role in all aspects of life. Also, when you pick a particular color, you show your personality to others. Further, when the ambience you are in has a specific color, it impacts the way you think. 
How to buy an orange casket
You can buy a casket online because it is a convenient option. You can order one at the click of a button rather than visit physical stores which can be a bit overwhelming at a time when you have lost your dear one. Further, when you visit an online store like Titan Casket, you have the option of customizing the casket to suit your preferences or match the personality of your loved one. You may choose a female casket made of steel, wood, cloth or other material and pick the color orange for the exteriors. You could also pick orange for the interiors if you wish to. The online buying experience allows you to consult experts as well in case you need a professional touch. 

Picking orange color for a casket
Choosing the right color for the casket is important as every color has a special meaning. It reflects the personality of your loved one and could also be part of a larger theme. Orange symbolizes youth, energy, season of autumn or adventure, so if your departed loved one had any of these attributes, pick an orange casket. If the loved one was also a woman, pick a female casket with an orange color on the exteriors or interiors. You can buy a casket online and even choose materials and colors as per your and your loved one's preferences.