Military Funeral Caskets - Our Top Coffins For Sale Honoring Veterans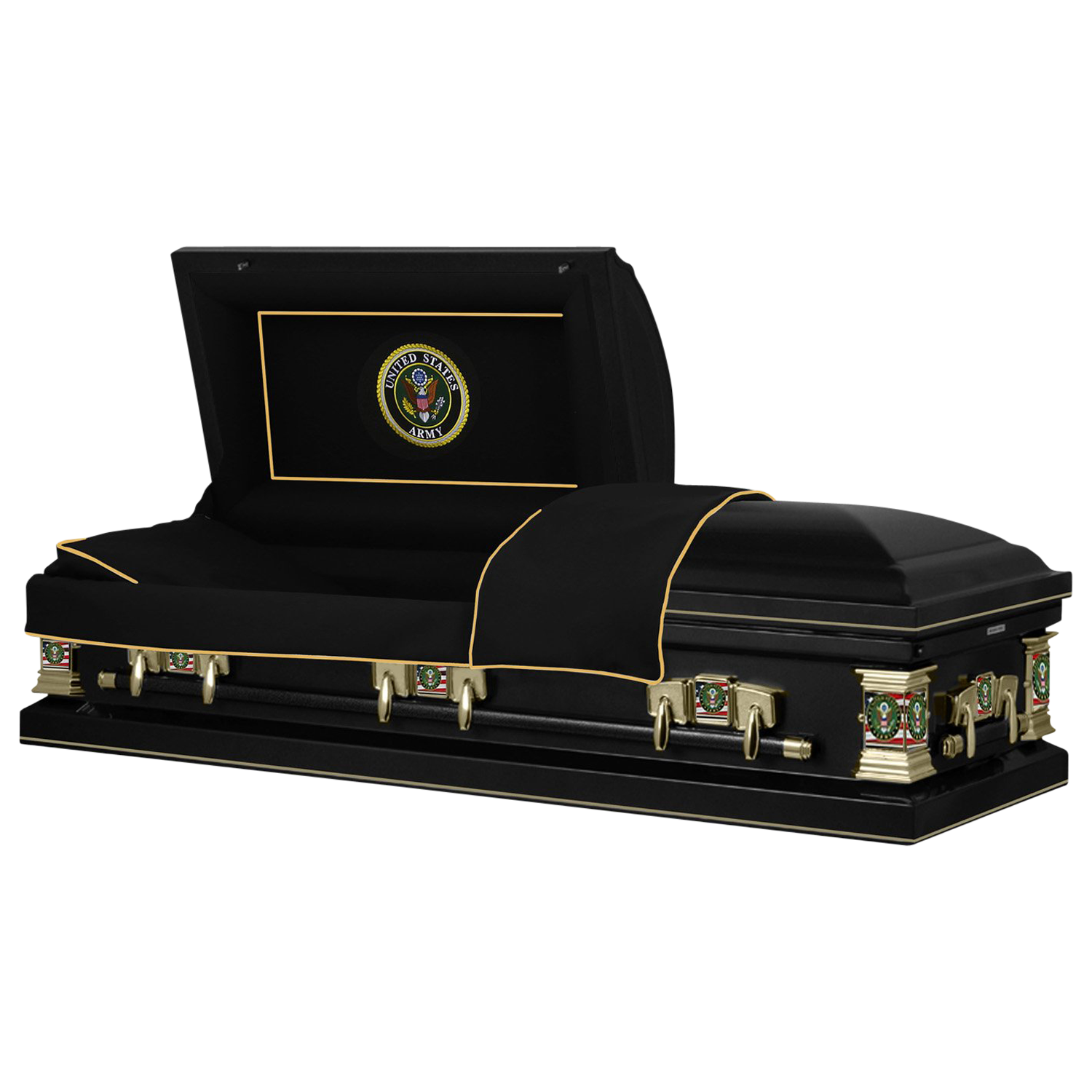 Above: The Titan Veteran Select (Marines)


Table of Contents
Can I Order One Of The Veteran Or Veteran Select Caskets For Sale But Change The Colors? Can I Upgrade The Steel Thickness?
Titan Casket Military Funeral Caskets
At Titan Casket, we are grateful for the service and sacrifices of military veterans. We recognize the importance of honoring a veteran's service as they are laid to rest. We are especially proud of our military funeral caskets selection. All our military caskets are built with the utmost care and attention to detail. Each of these coffins features a high-gloss finish, swingbar handles, and a rubber gasket and lock.
Below is a guide to our selection of military funeral caskets for sale. We have options for honoring veterans of all branches of service. Have something else in mind? Get in touch and we can help you select the coffin that is right for your loved one.
The Veteran Select - Air Force 

Our Veteran Select Air Force casket is finished with a high-gloss dark blue finish. The coffin's interior is a dark blue poly blend with silver piping. The Air Force emblem embroidered into the head panel features the requisite 13 stars and colors of ultramarine and gold.

The Army casket features a striking black high-gloss finish, with a gold-lined black poly interior. The U.S. Army Eagle emblem is embroidered on the coffin's head panel, which is enhanced by the matching imagery on the gold-tone hardware.

The Veteran Select Navy casket is painted in a high- gloss dark blue finish with a gold-lined dark blue poly blend interior. The coffin's embroidered head panel Navy emblem and matching gold-tone hardware are complete with an eagle and nautical rope chain.

The black, red, and gold colors of our Veteran Select Marines casket present a striking combination. The vivid red that carries throughout the coffin, from the eagle, globe, and anchor head panel emblem and matching hardware to the piping of the black poly blend fabric, makes for a bold showpiece.

Another option for celebrating a loved one's military service is out standard Veteran funeral casket, which is suitable for veterans of all military branches. Rather than a military emblem, this casket features a 'Flag at Rest' head panel and American Flag and eagle hardware imagery. Our Veteran Dark Blue coffin comes standard with a light blue crepe fabric interior.

Our standard Veteran funeral casket also comes in silver with a white crepe fabric interior, as well as the 'Flag at Rest' head panel and patriotic hardware imagery.

The Panel Collection - Orion Steel Casket with 'Flag at Rest' Head Panel

For a patriotic feel without the military imagery, our Titan Panel Collection caskets with 'Flag at Rest' head panel are a great option and can be presented in the color of your choice. Shown here is the Orion in red with a white interior, which features sculpted hardware, a squared-corner design, and reinforced stationary handles.

Do you envision a different design or head panel? We make all of our funeral caskets to order. This allows us to accommodate almost any request, often at no extra charge production time. We would love to hear your ideas.
If I Order A Military Funeral Casket What Is The Shipping Time? How Much Does It Cost?
Our selection of Veteran, Veteran Select, and 'Flag at Rest' head panel military funeral caskets, like all caskets and coffins you find on our site, can be purchased at any time. Because we make our caskets to order, we are able to fulfill any standard or custom order without additional handling time.  Caskets honoring all branches of service can be shipped out the next business day.
Standard ground shipping is free with all our military funeral caskets, just as it is with our entire selection. Coffins are within 2-7 business days following your order. Please indicate your desired delivery date at checkout. If you need a specific delivery estimate or expedited shipping, please contact us in the chat or at 1-501-420-3990 to discuss your options. 
Can I Order One Of The Veteran Or Veteran Select Caskets For Sale But Change The Colors? Can I Upgrade The Steel Thickness?

We would be happy to make these adjustments for you. If you see an exterior or interior color that you prefer, would like to change the head panel, or would like to make adjustments to the steel thickness or interior material, please contact us, and we will be happy to set up a custom order for you. 
We easily can make countless adjustments and customizations, often at no extra charge. Contact us to discuss your ideas.

Titan Casket offers advice regarding military funeral traditions and customs and helps you understand what to expect when honoring your loved one who served in the military.
Resources For Planning A Military Funeral
USA.gov Burial and Survivor Benefits for Veterans
Military.com Determining Eligibility for Military Funeral Honors
Funeral Consumers Alliance Types of Funerals for Eligible Veterans and Survivors