Funeral Details and Casket of Tony Bennett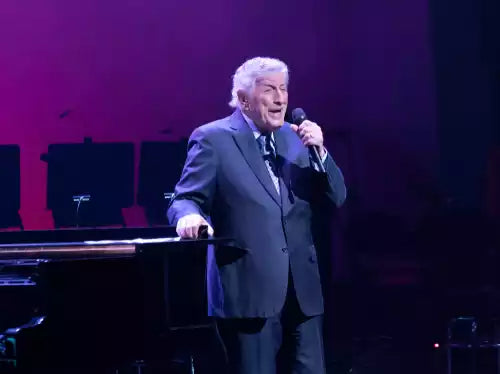 Tony Bennett Passes Away
Tony Bennett, the celebrated and ageless performer known for his devotion to classic American songs and his ability to create new standards like "I Left My Heart In San Francisco," passed away on Friday at the age of 96, just two weeks shy of his birthday.
Publicist Sylvia Weiner confirmed Bennett's demise in his hometown of New York. While the specific cause of death was not disclosed, it's known that Bennett had been battling Alzheimer's disease since 2016.
Tony Bennett Career
As the last of the great saloon singers from the mid-20th century, Bennett's passion was to create a lasting catalog of hits rather than just hit records. Throughout his decades-long career, he released over 70 albums, earning 19 competitive Grammys, most of which came after he turned 60. His velvety and enduring voice, often described as a tenor singing like a baritone, captivated audiences and earned him respect from both fans and fellow artists. Unlike his friend and mentor Frank Sinatra, Bennett was more focused on interpreting songs rather than embodying them. His performances were defined by an easy and courteous demeanor, and he had a unique ability to infuse emotion into ballads and enliven up-tempo numbers.
Bennett's enduring appeal extended to younger generations, and he collaborated with contemporary stars such as Lady Gaga, Carrie Underwood, and Amy Winehouse. Even at the age of 88, he broke records by topping the Billboard 200 chart with his duets project "Cheek to Cheek" alongside Lady Gaga. His commitment to bridging the gap between pop and jazz helped expose new audiences to the Great American Songbook, featuring the works of Cole Porter, Irving Berlin, George Gershwin, and Jerome Kern. One of his most famous hits, "I Left My Heart In San Francisco," came unexpectedly through George Cory and Douglass Cross, two relatively unknown songwriters who provided Bennett with the song when his career was experiencing a lull. The song became a huge success, earning Bennett his first two Grammys.
Tony Bennett Casket Details
Tony Bennett is known to be a Roman Catholic. Throughout his life, he embraced his faith and has occasionally expressed how it influenced his outlook on life and his music. Like many public figures, Bennett's religious beliefs were a personal matter, and he didn't often discuss them extensively in public. However, his association with the Catholic faith has been mentioned in various biographical accounts and interviews over the years. The details of Tony Bennett's casket are not made public yet.
Tony Bennett Funeral Details
Funeral arrangements and ceremonies are typically private and organized by the family and close friends of the deceased. The format and proceedings of a funeral can vary widely based on cultural and religious customs, as well as the preferences of the deceased and their loved ones. Tony Bennett funeral details are not made public yet.
Civil Rights Movement
Throughout his life, Bennett was not only renowned for his singing talent but also for his dedication to civil rights causes. He actively supported the Civil Rights Movement and participated in Martin Luther King Jr.'s 1965 Selma-to-Montgomery voting rights march. Bennett's career saw ups and downs, including clashes with his record labels and personal struggles. However, he persevered, and with the support of his son and manager, Danny, he successfully made a comeback in the music industry.
Beyond music, Bennett was a talented painter, and he pursued this passion alongside his singing career. His artworks, signed under his family name Benedetto, were displayed in various collections, including the Smithsonian Museum of American Art. Tony Bennett leaves behind a legacy of remarkable music and artistic expression, and he will be dearly remembered by his wife Susan, his children, and his numerous grandchildren. Throughout his life, he received numerous accolades, including being named a Kennedy Center Honoree and a National Endowment for the Arts Jazz Master. His contributions to the world of music and art will forever be cherished.
Why Buy A Casket Online?
Buying a casket online has become a popular option for several reasons. Here are some of the advantages and benefits of purchasing a casket through online platforms:
Cost Savings: Caskets purchased online are often more affordable compared to those available through traditional funeral homes. Online retailers can offer competitive prices because they have lower overhead costs and don't have to maintain physical showrooms.

Wide Selection: Online casket sellers provide a vast array of options, including various materials, designs, and styles. This allows buyers to find a casket that aligns with their preferences and budget, giving them more flexibility in making a choice that suits their needs.

Convenience: Shopping for a casket online is convenient, especially during emotionally challenging times like planning a funeral. Families can browse caskets from the comfort of their homes and take their time making a decision without any pressure from salespeople.

Customization: Online casket retailers may offer customization options, allowing families to personalize the casket with specific colors, engravings, or other details to honor the deceased's preferences or beliefs.

Delivery: Caskets purchased online are typically delivered directly to the funeral home or the designated address, saving the family from the burden of transporting the casket themselves.

Reviews and Testimonials: Online casket retailers often have customer reviews and testimonials that can help prospective buyers make informed decisions. Reading about others' experiences can provide valuable insights and confidence in the purchasing process.

Transparent Pricing: Online casket sellers generally provide transparent pricing, detailing the costs upfront, which can help families avoid unexpected expenses or hidden fees.

Privacy: Some families prefer the privacy and comfort of choosing a casket online rather than discussing options in person at a funeral home.
How Can Titan Casket Help?
Step into our online store, where you'll discover an extensive selection of caskets, designed to cater to various preferences and budgets. From classic and elegant designs to modern and eco-friendly options, we have something for everyone. Whether you're looking for metal, wood, or green alternatives, rest assured, we have you covered. At Titan Casket, we believe in complete transparency. That's why our pricing is straightforward, with no hidden fees or surprises. You'll have a clear understanding of the costs, enabling you to make an informed decision without any worries.
Our user-friendly website makes it easy for you to browse through our caskets, read detailed descriptions, and find the perfect fit for your loved one's final resting place. And if you need any assistance or have questions, our compassionate team of experts is just a call or message away. We're here to support you every step of the way. When it comes to quality, we leave no room for compromise. Each casket we offer undergoes stringent testing to ensure it meets or exceeds industry standards. Your peace of mind matters to us, and we take pride in delivering caskets that uphold the dignity and memory of your loved one. With Titan Casket, you'll find not just a casket but a source of comfort and care during this emotional time. We understand your needs and are dedicated to providing you with the best possible experience. Let us help you honor the life of your loved one with a casket that speaks of love, respect, and lasting memories.