What to expect in Christian Funerals? Find out here.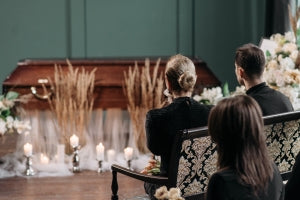 Christian Funeral Etiquette
In the school of Christianity, when someone passes away, a funeral is held to honor their life and their passing, usually at a church. While not every Christian funeral service follows the same pattern, there are certain traditions that you are likely to witness if you are attending a Christian burial or, more rarely, a Christian cremation. Either way, a Christian funeral is usually meant to be a somber occasion where the loved ones of the deceased can gather to mourn.
People attending the funeral often bring along flowers or arrange to have them sent to the funeral home beforehand. Do not skip bringing flowers if you are confused about which ones to get; there are no real rules and you might offend someone if you bring nothing. At a funeral, Christian dress code dictates that you wear dark colors such as black or navy and dress modestly. Attendees are also expected to maintain decorum as a sign of respect by refraining from causing any disruption.
Beliefs
Christians believe in an afterlife where a person goes to either Heaven or Hell after death, and any rituals meant to honor the passing of the deceased operate within this context. Some Christians do believe in a purgatory where the soul goes immediately after death to cleanse their sins after which they may ascend to Heaven. They also believe in the possibility of resurrection in the future much like the way in which Jesus was resurrected after his death.
Due to these beliefs about resurrection, there is some disagreement among groups of Christianity about the validity of a cremation over a burial, especially for Catholics. But it is generally believed that there is nothing in the Bible that condemns or opposes cremations. When Christian cremations do happen, it is expected that the ashes be kept collectively at a memorial site. 
Rituals
A casket is used to hold the body of the deceased, the body is washed and dressed before being placed in the casket at a Christian funeral. There is often an open casket at the funeral to enable a viewing, which is when everyone gets to take one last look at the deceased as well as bid their final goodbyes. Music can also be a part of the funeral, with some organ music playing when the casket is being carried or sometimes vocals from a choir. Usually a religious hymn serves the purpose of a Christian funeral song. 

The readings offered by the priest or minister are aimed at praying for the deceased's soul as well as praying for strength for the bereaved to cope with the loss. Some people hold a wake which is separate from the funeral service, either before or after the funeral. A wake serves as a more informal gathering giving people the chance to mingle and support each other, as opposed to the actual funeral service which will likely have a more formal tone and where people would be expected to maintain quiet.
Christian Funeral Service
The purpose of a Christian funeral is for loved ones to gather and pray for the deceased's soul, as well as commemorate their life. A Christian funeral service is generally led by a pastor, which can include customs such as reading hymns, prayers, or giving eulogies. Sometimes the service might be held directly at the burial site, and these services are usually shorter than a service at a funeral. 
Although the service will rarely last longer than an hour, some Christian funerals can end up being long events, especially if there is a reception with food and drink afterwards. It is completely normal for non-Christians to attend a Christian funeral, and there are no rules forbidding this. You are simply expected to respect the religious traditions and practices in place. Children can also be a part of Christian funerals, though the caregiver of the child is expected to ensure no disruption.