Why Are Flowers Placed On Caskets Gravesites?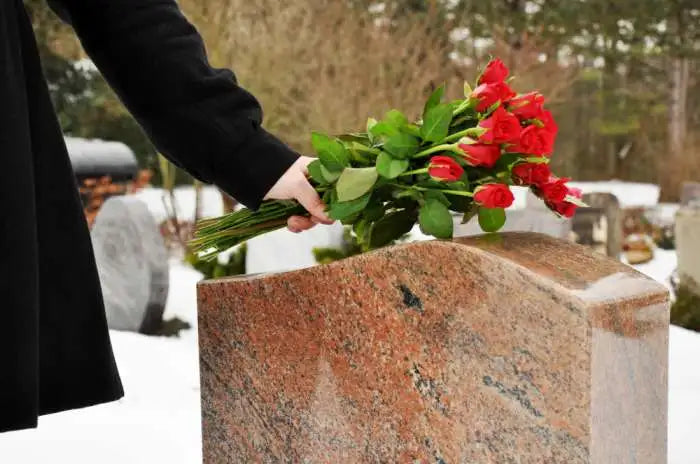 Practices And Traditions! The History Behind Flowers On Caskets And Gravesites
There isn't an overarching reason behind why we place flowers on caskets or flowers on a gravesite. Flowers, for decades, have played the role of being a symbolic exchange of love. Vibrant, beautiful, and fragrant flowers are given to people on multiple special occasions. It's a kind gesture to show your appreciation and value.
Casket flowers are believed to be a tradition practiced in the Shanidar caves in Iraq- where a skeleton was seen covered in wildflowers and pollen. The practice of decorating the deceased with flowers can be speculated from here. Flowers like grape hyacinth, hollyhock, thistle, and cornflower were placed on the skeleton found in the cave.
It's also believed that flowers on gravesites were a practice from 2,000 years ago by the ancient Greeks. Allegedly, the Greeks were believed to perform last rites over the grave and this was called "Zoai." When flowers were placed on the gravesite, especially when it came to honoring soldiers, the flowers would root themselves in the gravesite. If the flowers bloomed, it was taken as a message from the deceased that they have found happiness in the afterlife.
Another anecdote leads us to the reason behind why we place flowers on a casket. It is believed that ancient Romans traditionally placed flowers on the gravesites and caskets of the soldiers who were killed during a war or in a battle. Apparently, the Romans held "Parentalia," or the Day of the Fathers, an eight-day long festival. During this time, Romans would offer roses and violets to the fallen soldiers as a symbol of respect and honor.
An eminent historian, Jay Winik suggested that the tradition of placing flowers on a casket or sending flowers to a funeral was a practice noticed after the end of the Civil War.
Events like the death of Abraham Lincoln could also be a memorable day to help us trace back the history behind placing flowers on a casket.
So, Why Are Flowers Placed On Caskets And Gravesites?
History could teach us about the practices and traditions but we have collectively decided to carry forth the practice of sending flowers to a funeral. That's because,
● Flowers can act as an offer of condolence
● It could be to memorialize the deceased
● It is the symbol of love
● Practice funeral etiquette to show care and affection
Types Of Funeral Flower Arrangements
Flowers in funerals are a sentimental offering. Sending flowers can show your respect to the deceased as well as the family members who are in grief. It is an exchange of love in a time of melancholy.

You could choose to send arrangements like:
A casket spray is a type of floral arrangement where the flower is placed on the top of the casket. Usually, these casket sprays are personalized for the loved one.
These flowers are also left on the gravesite and are often cleaned out by the family members and replaced with new and fresh flowers. Casket sprays can vary from affordable to expensive, depending on the size and type of floral arrangement picked.
A basket of flowers is always a respectable and lovely way to show your support to the family members. These baskets can carry multiple flowers and can vary from small to large sizes. The convenient part about the basket is that it's portable.
Easel sprays are flowers that are generously arranged on an easel. Easel flowers are customizable as well and can be placed near the casket. Flowers like roses, lilies, carnations, and gladiolus can be used to adorn the easel.
They usually are big in size and are heavy to carry around. If you are planning on carrying an easel to the funeral, make sure to have ample space in your vehicle or have them delivered to the address to avoid any accidents with the easel.
Wreaths are oftentimes the go-to floral arrangement for funerals. Flowers on a wreath are beautifully arranged with different types of flowers and herbs that fill up the room with a wonderful fragrance. Wreaths are circular in shape, suggesting that the deceased have lived a full and complete life. Wreaths can be placed anywhere with ease and are also hassle-free when it comes to carrying them around.

Flowers In Funerals: A Respectable Way To Say Goodbye
Exchanging words during this time can get very hard. Flowers play the perfect role in delivering a heartfelt message to friends and family members who are going through a hard time.