Why To Opt For A Silver Color Casket?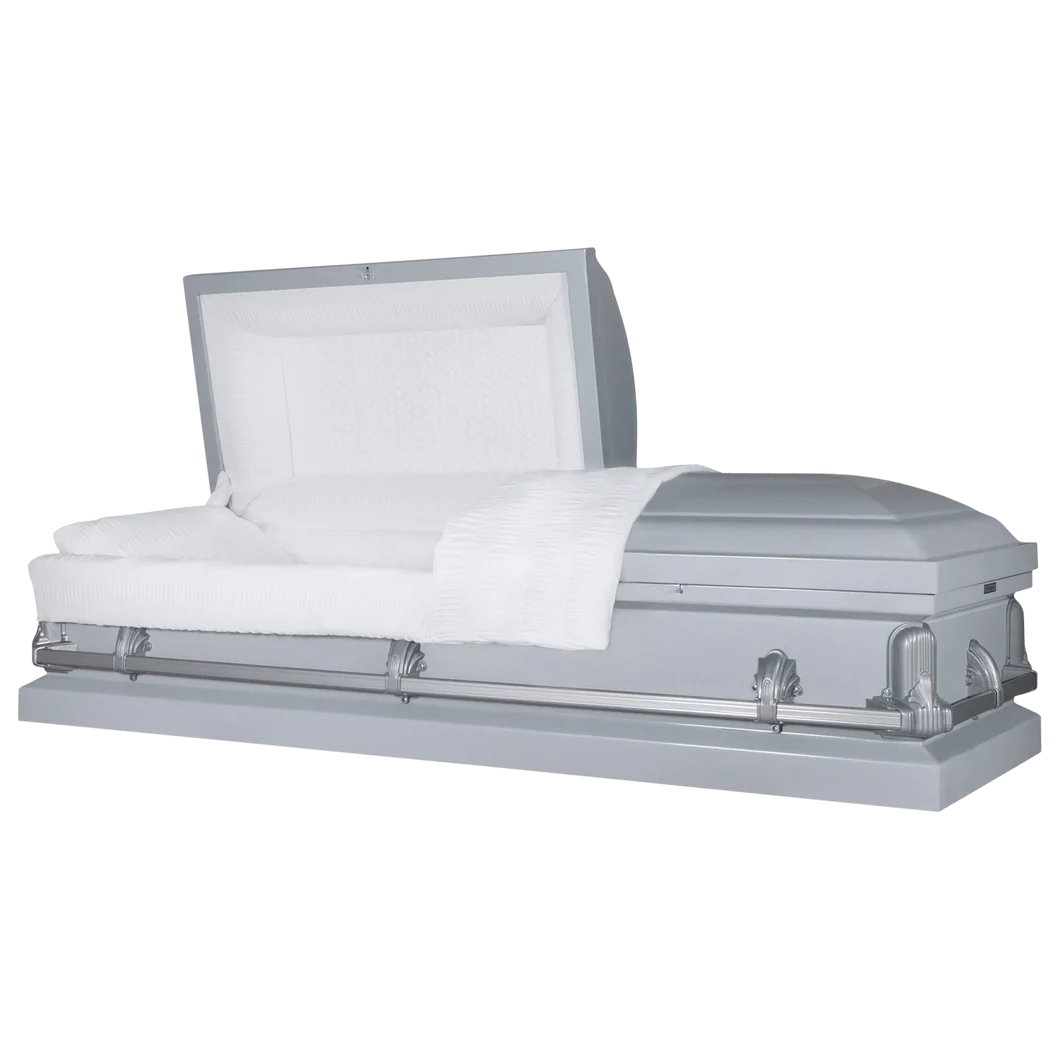 Making The Right Choice In Casket
Today, there is no dearth of options in the market for burial caskets, and one is spoilt for choice. Caskets come in various colors, shapes, sizes, hardware and make-up. Despite the many benefits of having several options, one might find the exercise of selection overbearing— especially in times of grief. Wondering where you can go to ease this process? Simply, head online to Titan Casket to find your ideal match. Here, you will be presented with  a wide range of burial caskets for you to choose from and relaxes the process of selection by helping you narrow your options by assisting you through guides, keywords, and by allowing you the option of customization. 
Why should you opt for a silver look? If you are looking for a sophisticated appeal that oozes style, then the silver color caskets range might be the perfect choice for you. Scroll down to read more about how and why you must buy a silver color casket. 
While making your pick between caskets, make sure to be conscientious of the preferences and desires of your deceased loved-one. Afterall, the burial is where they will be laid to rest. If there is no death-plan in place, you must make a special effort to fulfill this by finding a casket that represents who your loved one was— their personality, preferences, legacy or even favorite color.  
Why Purchase A Silver Color Casket
Purchasing a casket made of silver can be needlessly heavy and an expensive exercise. That does not mean there are no alternatives out there to meet the same spectacular appeal at good prices. Titan Casket offers an excellent section of handcrafted silver steel casket, starting from just $1,099. They are available in oversized widths and different thickness steel panels, hardware, styles and add-ons. An increasing number of people are moving away from traditional wooden caskets as they offer greater durability and allow customization and can be gasketed. A silver finishing on the steel body elevates that gray look by adding some chicness to it. If you want to capture the grace or poise of your loved-one or the success or legacy they left behind, our silver color caskets are just what you are looking for.   

Some exciting silver caskets come with a high-gloss finish for that rich look.  The popular Andover model comes in a light matte coat that gives out a very stately appeal. The satin series come in a dark silver glaze, for that 1960s old Hollywood feel. Whatever your pick, the silver range will not disappoint. 
When To Purchase A Silver Color Casket
There need not be a specific time or occasion or circumstance to buy a silver color casket. The color choice must simply be agreeable to the liking or in the likeness of your deceased beloved. However, something you might want to pay attention to is the order time-frame. Since these caskets are perfectly handcrafted— each with their own finishings, interiors and hardware– they may take varied periods to arrive. Keeping this in mind, you must order your desired silver casket, enough days in advance. Lucky for you, online platforms have several features to assist you for a timely purchase that will also honor all your other requirements.
How To Purchase A Silver Color Casket
When you are purchasing a casket online, make sure you browse through all available caskets from the Silver Steel Series. Here, you can filter out what additional features you would like your casket to have. These caskets are made of American-manufactured 20-gauge steel. In case you are looking for something heavier, you have the option of selecting the 18-gauge option for a small price. In case you are looking to upgrade your casket to a full couch steel one, you have the option of doing so. Some popular silver-steel options to pick from are the Atlas XL steel, the Oversize Casket Collection and the Jupiter XL Oversized Swingbar Steel Casket.  If you are keen to make specific modifications to your casket, you have the option of customization. Here you have the liberty to combine whichever frame size, interiors embellishments, finish and parts you wish to. Once you are done with the filtration process add your item to your cart and proceed to shipping your favorite silver casket home for a timely and safe delivery.