What Happens At An Air Force Member's Funeral?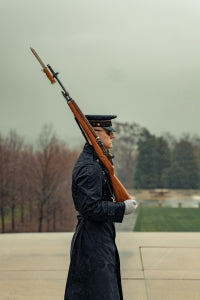 Military Funeral Service
The kind of funeral service witnessed at military funerals can differ from a typical funeral in many ways. There is often protocol involved and many patriotic traditions carried out, for example, any and all Air Force members who are actively serving are expected to be in uniform, as are the honor guards.
Some families opt to carry out the burial and service at a national cemetery. However there are some important differences you should know about choosing a national cemetery as opposed to a private one.
National Cemetery
In the case of a deceased veteran, people often opt for burials at a national cemetery, but you should know that national cemeteries do not host traditional funeral service. Instead they facilitate a "final committal service" at a committal shelter, which is a pavilion-like setup located at some distance from the actual gravesite. These services are generally about 20 minutes long and may or may not involve military honors.
If it is important to you to be there graveside for the burial, then you might want to opt for a private cemetery instead. At a national cemetery,  funeral attendees are not permitted to visit the gravesite right after the committal service, though they are welcome to come back later in the day. 

Titan Casket offers advice regarding military funeral etiquette and customs and helps you understand how family, friends, and guests should behave and dress when honoring your loved one who served in the military.
Honors
There are two types of honors that the Air Force bestows on deceased veterans, provided that they either retired or were discharged honorably. In standard honors, at least two honor guards will be present at the funeral to bestow the honors. There will be pallbearers who are escorts carrying the casket holding the deceased, as well as a firing party which is a group of soldiers that will fire salutations.
Another protocol since 1981 at a military funeral service is a bugler playing "Taps", a bugle call that was legally recognized as the "National Song of Military Remembrance" in 2013. Occasionally, a stereo recording may be used instead of a live bugler. After "Taps" is played, there is a military funeral flag presentation, wherein the honor guard lifts the national flag off the casket and shapes it into a military fold before handing it to the next of kin.
If not standard honors, there is also full honors, which a deceased veteran can qualify for by fulfilling any of the following criteria:
If they are a retired officer regardless of rank

If they received a Medal of Honor

If they have retired as a chief master sergeant of the rank E-9

If they were killed in action

If they were selected to have full honors bestowed upon them through legislative means
In a funeral where full honors are being bestowed, one member from each unit of the Air Force Honor Guard is present at the funeral. In addition to the firing party, Taps, and pallbearers during standard honors funerals, there is also the US Air Force Band instead of a bugler.
Requesting Honors
To request honors you need to go through the necessary bureaucratic process which involves paperwork, though it is a simple process. For a burial at a national cemetery or a state veteran's cemetery, you only need to submit DD Form 214 to the funeral director, and the government will reimburse your funeral expenses. However, if you are holding a burial at a private ceremony and seeking government reimbursement, you have to submit the following additional documentation to any regional VA (Veteran Affairs) office:
Funeral bills

A copy of the veteran's discharge papers

The veteran's death certificate

Funeral bills

VA Form 21-530
Air Force Casket
A lot of people choose to purchase a military casket or specifically an Air Force Casket which is designed with a patriotic theme. You can get a casket with an Air Force head panel though certain offline or online casket retailers. Caskets online also tend to be more reasonably priced than those available at funeral homes, so if you have something specific in mind like an Air Force Casket, you should consider purchasing it online.