When And How To Buy A Black Casket?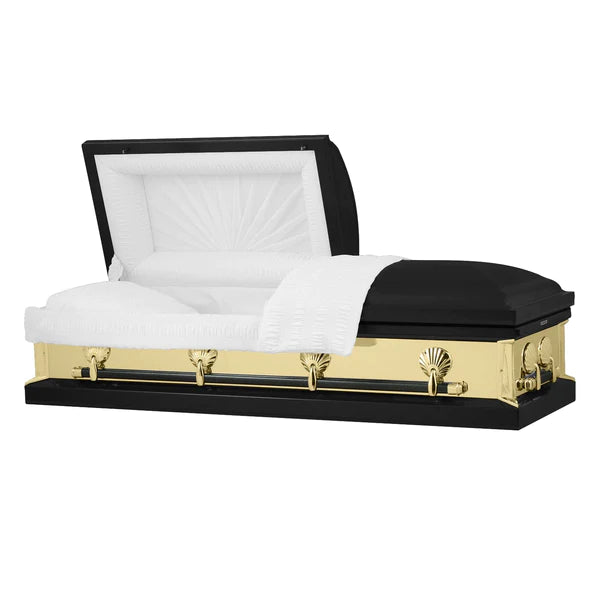 Powerful Caskets For A Powerful Farewell

When you're commemorating the memory of your loved one, you want to provide the best possible farewell to them. You want the funeral to reflect the personality of the deceased. You want to respect their wishes and follow the demands of what they would like to have wanted at  their funeral.
If your loved one had a sophisticated, elegant and powerful personality, you could look into buying a black casket for them.
Black caskets are usually made of steel and have gained traction and popularity from their buyers over the years.
Steel caskets are a type of metal casket that is known for their durability and reliability. Metal caskets are built to withstand a high level of destruction and are borderline crushproof in nature. If you're looking to bury your loved one, a  metal casket is what you should be looking for.
When To Buy A Black Casket?
Black caskets are meant to stand out. These caskets will hold the kind of person that has been brave, powerful, and suave. Nothing says luxurious and lush than a black casket.
While looking to buy a black casket, you should know that black caskets come in different textures. You could decide on the matte finishings for the casket to give it a charming and sleek look. If you opt for a glossy black casket, you can expect an indisputably smooth and lustrous casket.
Black caskets come in different gauges. The steel's thickness depends on the gauge of the casket. Remember, the thicker the steel, the lower the gauge. Black caskets usually come in 3 choices.
16-gauge, 18-gauge, and 20-gauge thickness. You will be able to spot a 22 gauge sometimes. If you're looking to buy a thicker black casket, you will be paying more for it. The thinnest sheet of steel will cost you less.
It is best to plan your budget before getting into the nitty-gritty of buying a black casket.
You should know that two types of steel make these caskets- stainless and standard. Stainless steel is strong and resists corrosion really well. They are usually more expensive. Standard steel, also known as carbon steel, makes for resistible caskets but is usually cheaper than stainless steel caskets because they are not resistant to corrosion.

How To Buy A Black Casket?
Black caskets are easily available with so many more options ready for customization. You could visit funeral homes and have a look at the options available to them. Keep in mind to read through the Funeral Rule before you visit one to have the best deal. You could make this process easier by looking at online caskets. A simple search can present many options that you can look at and compare. Online caskets are usually more hassle-free in terms of finding the right casket, comparing prices, and shipping-wise too. You can save money by putting your trust in an online retailer without having to negotiate on the quality.
Black caskets usually range between $1,200 to $5,000. As discussed before, the choice of material dictates the price of the casket. Another expense to consider would be the interiors you pick to go along with the black casket. You can pick from some of the options like white, black or red velvet interiors and pick the cloth material of your choice too. Black caskets also come in various sizes, including oversized caskets.
Give Your Loved One A Respectable Goodbye
Choosing a black casket already makes for a bold statement. You want to be able to give your loved one the funeral they deserve. A black casket speaks volumes about your admiration for the deceased. Black caskets make for highly respectable and luxurious caskets. If you have made up your mind about getting a black casket, it's important to narrow down all the requirements like size, material, customizations, and so on to make it easier for you and the seller. If you're looking for a one-stop destination, where all your needs will be met, be it finding a black casket, or  availing of free shipping and black caskets that are affordable, you could look into buying the casket from Titan Casket. Make sure to read online reviews to know that you're making the right choice. Always compare prices and pick the casket that makes you feel like you're doing justice to your loved ones' wishes. Do remember that funeral homes cannot charge you a fee for buying a casket from elsewhere and also funeral homes charge you a lot for a casket when compared to online retailers! Know your rights before making any decision!