When And How To Buy A Yellow Color Casket?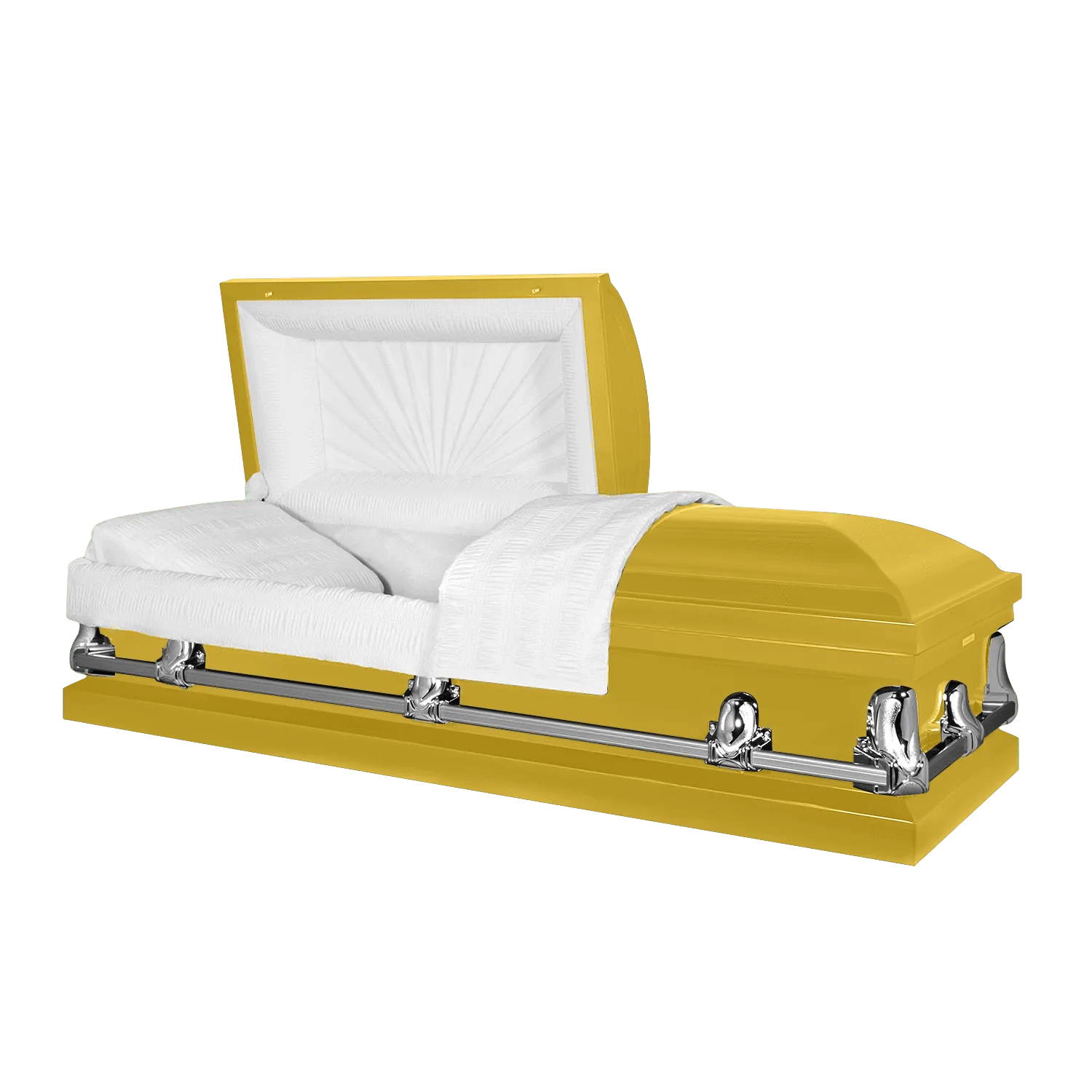 An Overview
Choose a finely designed yellow steel casket online to honor your loved one. Each lovely yellow casket may be customized with a variety of hardware, head panels, images, and steel thicknesses. While our caskets are of the highest grade, they are available for purchase online via Titan Casket at far cheaper costs than equivalent products at many funeral homes. Furthermore, our yellow color caskets come with free standard delivery.
What is a Yellow Color Casket?
The process of buying a casket online can be an emotionally and spiritually meaningful affair. When most people look at a casket, they have a gut feeling about whether or not it adequately captures the essence of the person who has passed away. It is very normal to look for a casket that conveys both the depth of one's sorrow as well as the magnitude of the loss of a loved one. If you are having trouble finding a casket that has a genuine feel to it, a yellow color casket can be just what you are searching for.
The majority of the time, a shining, yellow color casket with a rich appearance is selected because of its prestige. It is likely to be the most impressive farewell that you can present to your loved ones. Yellow color caskets are not composed of solid yellow. To keep the price down, they are often fashioned of steel and then coated with yellow. Continue reading if the thought of a yellow color casket has piqued your interest so that you may learn when and how to purchase a yellow-colored casket.
When To Use A Yellow Color Casket?
Yellow is not the most popular hue for caskets, but it's ideal for someone who was a beam of brightness to others around them. Yellow is for those who were kind, cheery, enthusiastic, and dynamic. For a more serious look, it may be toned down with a white inside. Both the expense of the solid yellow itself and the amount of work involved in the production process contributes to the high pricing. Having said that, you do not necessarily have to immediately exclude the possibility of a yellow color casket since there is such a vast variety of options even within this category.
If you have your heart set on a yellow casket, the most cost-effective choice you can make is to go with a stainless steel casket that has yellow plating applied to it according to your preferences. Such a casket can be purchased from online sellers for less than $2,000. You may give a casket the appearance of royalty without breaking the bank by purchasing one that has yellow trim placed on top of a base color of your choice for the casket shell. Because of the way that they appear when trimmed in yellow, caskets in shades of green, crimson, and purple are in particularly great demand for this kind of casket.
Cost Of A Yellow Color Casket
When it comes to purchasing a yellow color casket that is on the cheaper side, you have several alternatives available to you, and stainless steel caskets with yellow-plated shells are becoming an increasingly popular choice. Even if the casket is not completely made of yellow, the process of constructing it still takes a lot of time and involves a lot of effort, therefore it is vital to plan and submit your order promptly. Customers looking for yellow caskets often begin their search with amber caskets, saffron caskets, canary caskets, freesia caskets, mustard caskets, and lemon caskets.
How To Buy A Yellow Color Casket?
Any simple metal casket may be given a sophisticated appearance by being given a yellow coating. Various online sellers offer several alternatives with unique styles at a price that is just a tenth of what it would cost to purchase a celebrity-style casket elsewhere. They offer completely customized caskets; hence, you are free to create them by your preferences and to make your own choices about the color combination, thickness, internal material, and other aspects of the casket.

At Titan Casket, your hunt for a yellow color casket at a reasonable price comes to an end since we provide stainless steel caskets that may be yellow-plated according to your specifications. You may also upgrade to full couch steel for your casket. This modification will result in a single casket lid from toe to head, rather than the conventional half-couch type, in which the lid is divided into two halves.