10 Graveyard Ideas for Halloween Decoration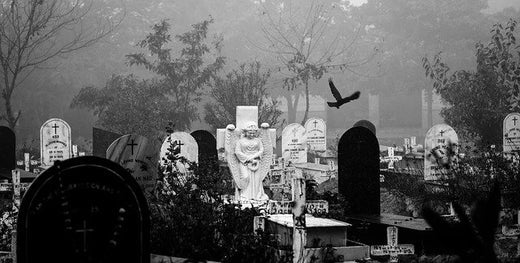 As Spooky As It Gets
It's the season of dried crispy leaves and orange skies. It's the season of spooky stories and haunted lullabies.
We all love the Halloween season. Dressing up as our favorite characters, going trick-or-treating, watching horror films and narrating eerie stories- adults and kids, everyone is a fan of the frightening fall season.

Do You Know Why We Celebrate Halloween The Way We Do? 

Halloween is celebrated on the dusk of the 31st of October every year. This is the evening before All Saint's Day. Allegedly, The Celtic tribes, consisting of the Britons, Scots and the Irish, used to  believe that the lord of death gained power over the sun god during this time. The lord of death would gather the evil spirits from the underworld and come to visit us, earthlings, on this day.
The spirits would circle around a grave and perform rituals and rites. They would cause havoc in the villages and trouble, innocent people, across the town.
To please the demons and evil spirits, the Celtics would offer food to the spirits as a peace offering.It is believed that spirits can't see their own reflections and so the people in these villages would dress up with masks and scary outfits to make sure that no ghost could see them or trouble them.
It's always interesting how traditions of the past can be carried down and modified for our modern lives. The uncanny practices from the past have led to the super exciting and warm Halloween traditions and celebrations of today.
Dress Up It Is A Halloween Party
Celebrations call for parties that bring your friends and family together. It's the time you put your worries to the side and prepare for a night full of bonding and commemoration. Halloween parties can't go without dramatic and eerie costumes, lots of treats, back-to-back horror films and Halloween decorations! If you're looking for some Halloween decoration ideas that will make you stand out and jazz up your Halloween, you've come to the right place!
How To Serve Spooky!
Before you start to plan for your Halloween party, it's important that you get your theme right. Listing out all the elements and Halloween venue ideas is a good place for you to start.
Based on the number of people you're calling you can narrow down on a venue. Remember, Halloween parties are also about the efforts you have made in decorating the place well. Jot down all your ideas and start surfing the internet for inspiration. As you're making this list, start making a note of the prices of each item you have in mind to make sure you're not exceeding your budget in hand. Perhaps, you could try with a graveyard setting! It is one of the easiest yet riveting Halloween decorations that you can't go wrong with.
From Us To You, Halloween Decoration Inspiration 

1. The center of attention
It's always easier to have a statement piece, an element that everything else revolves around. If you're considering the graveyard theme, nothing would fit better than a casket right in the center of the Halloween decorations. You can find cheap caskets that are made of cardboard, cloth, pine and other biodegradable materials. A casket will set the tone for how the rest of your graveyard is going to look. You can organize fun activities for the kids and the adults around the casket. Buy some paint and brushes and let your folks decide how they want to make the casket look spooky!
2. A tombstone 
A graveyard Halloween party is incomplete without a tombstone. You could make them yourselves or do a little search on the internet and quote your price with it. A tombstone standing above the casket will make your Halloween party look surreal. If you're looking for a cheap fix or a DIY tombstone that you can make with thermocol and paint with shades of gray and black. You can engrave the R.I.P initials and paint on it! If you're looking to buy something readymade, you can find a tombstone decoration online. 
3. Frightening Lighting
When all your Halloween decorations are laid out in the dark, a sliver of light will add the right kind of effect to your decorations. Halloween decorations come in different types of lights made of skulls, pumpkins and ghosts. They also come in various shades giving out different colors of light. You can wrap the casket and tombstone in these decorative spooky lights and embroider your Halloween party the right way. You can also hang these lights from the ceiling or wrap them around a tree, depending on your venue. The right kind of lighting can set the mood and tone for your party.
4. Good old pumpkins
Allegedly, the Celtic tribes used to carve out hollow vegetables and fruits like pumpkins to invite the good spirits to come and rest in these pumpkins. Whether or not this legend is true, pumpkin carving is an iconic practice that has grown to be everyone's favorite activity during Halloween. Conduct a pumpkin carving exercise for your folks and share a fun-filled experience with each other. You can take the carved pumpkins and place them by the casket to add to the spooky decorations. The kids will really enjoy it if they're rewarded for their artistic work on their pumpkins. Fill their trick-or-treat containers with chocolates.
5. Smoke machines
Picture this, a dark and dingy room full of cobwebs and creepy crawlies. A tombstone with a fresh casket laying on the floor surrounded by skulls and bones. A soft smoke rises from the casket and fills the air. If you're trying to set the tone for your Halloween party, a smoke machine is the best way to go about it. You can place the machine in the casket and cover it with the lid, leaving a part of the casket cracked open for the smoke to escape. A smoke machine is an expensive buy but you can always find places to rent the machine from. At a time like Halloween, smoke machines are usually in demand so plan your decorations in advance and book a machine to impress everyone at the party.
6. Creepy crawlies
If you've ever been to a graveyard, you would have noticed the number of insects and animals crawling around the place. You can easily find plastic cobwebs, spiders, owls, rats, bats and lizards and scatter them around your party. This is going to spook your guests out but will enhance the graveyard look that you're going for. Hang these decorations from the trees or have them placed near the casket to give their full effect. If you're trying to DIY this part, you can make these insects out of paper mache and spin cobwebs with the help of frayed cotton.
7. Cemetery archway
If you're looking to take it up a notch, you can have a cemetery archway made that will lead your guests into your graveyard. Halloween decorations are all about creating an eerie experience and having fun while you're at it. If you're not too keen on spending too much money making the archway, you can make a banner that reads 'Cemetery/Graveyard' and have it placed outside your venue. You can also place other placards or banners reading 'enter at your own risk,' or 'witch at play' to drop hints at your guests for what's to come!
Liquid error (sections/article-template line 122): invalid url input
8. Floating ghosts
Evil spirits wandering floating in the air is one of the classic decoration ideas for Halloween decorations. All you need is a couple of white bed sheets. Hang these bed sheets from the  trees or the ceiling. If you're doing this outdoors, the wind will move these sheets around, giving it the illusion of hovering and movement. If you're planning to hold your Halloween party indoors, try placing a fan next to the floating ghosts to compose the same kind of effect.
9. Graveyard Lanterns
Graveyards are infamous for being dimly lit spaces. This adds to the eeriness of being in a graveyard. Having string lights is not enough for your guests to be able to walk around. You could find graveyard lanterns and hang them across the venue. You can buy lanterns online and fashion them to your needs by drawing spooky elements on the lantern. You can DIY these lanterns with a few bottles at home too.
10. Eerie noises
Tie your entire graveyard theme together by playing creepy tunes in the back. Find a place to keep your speakers and create a playlist for your graveyard party. You could include owl hoots, creepy laughs, ghost whispers and whistles, and rats screeches to your list of sounds. You can later use this speaker to also play some music and get everyone on the dance floor. Halloween is not only about the creepy decorations and themes but also about spending time with your friends and family.

An Unforgettable Halloween/ Boos That Stick With You! 

A graveyard-themed Halloween is a sure shot to a successful party. Throwing a party for a mix of adults and children can be challenging. That's when a theme like this comes to use! If you're looking to buy a cheap and sturdy Halloween prop, like the casket, you can always check out Titan Casket. Once your centerpiece is set, everything will start to fall in its place!