Firefighter Funeral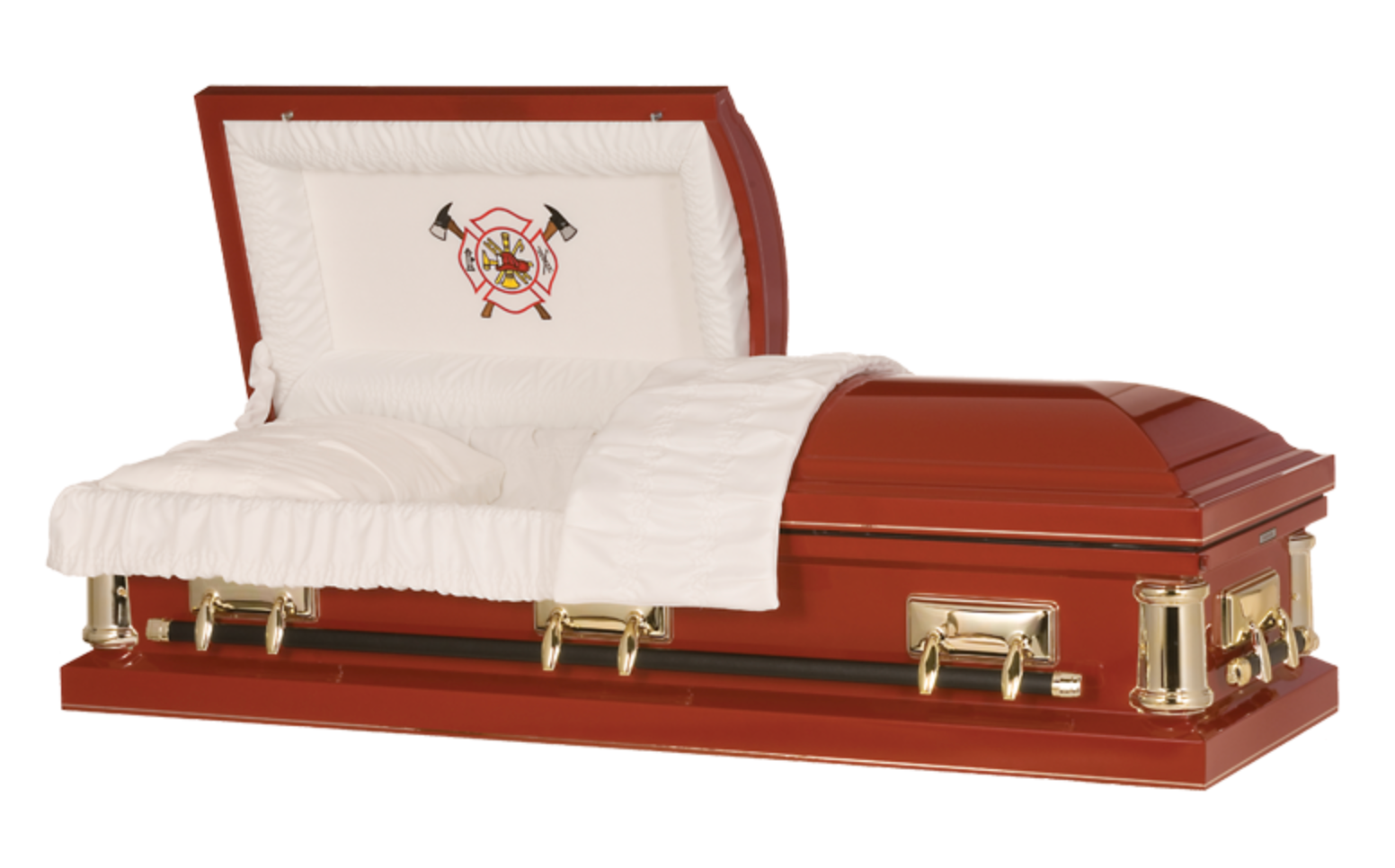 Are you planning a firefighter funeral today? If your loved one served as a firefighter and has passed on, you might wish to honor them in a special way during their services. From the level of formality of the funeral to the casket you choose, celebrating your firefighter's life with dignity is an important process.
Table of Contents
What Is A Fireman Funeral?
Sometimes, a firefighter funeral may mean that you design a celebration of life with elements that speak to your friend or family member's time of service. In other instances, these funerals can be extremely formal, involving ceremonies and even department apparatus. 
How you proceed with your firefighter's services has a lot to do with their length of time in the department and the circumstances surrounding their death. For a line of duty death (LODD), the funeral is typically very formal, with full honors like in a military ceremony. LODDs include those transpiring both during a service call and those resulting from illness or injury that arose out of service itself.
An active or uniformed firefighter who did not die in the line of duty will still receive full honors, with military-style recognition of their achievements and sacrifices. For inactive members, or those who are affiliates, like spouses and honorary members, it's typically up to the individual fire department how they will plan a funeral. If they determine full honors are preferred, there is no rule for or against it.
Note that families can always choose a private funeral for their firefighter, regardless of whether the death was in the line of duty. 
How Do You Honor Fallen Firefighters?
One way to honor fallen firefighters is through the use of apparatus, like a fire truck, in the ceremony. You may also invite members of the department to serve as uniformed pallbearers or as a color guard. 
Some funerals for firefighters use badge shrouds to show respect to the member who has passed on. Others bring bagpipers for the services to lead the casket in or out. Other musical instruments may also be used, such as a bugle. Sometimes, fire departments also use a bell to signify the firefighter's last call.
An honor guard or escort by the department's fire engines is a lovely way to honor a departed member. In addition, units with the equipment may use a caisson, or wagon, to pull the coffin. It is typically flag-draped.
Most fire departments use black bunting on their stations or vehicles, in addition to signs naming the member who has died, to further honor their service.
You may choose to honor a fallen firefighter with a special casket designed with them in mind. This red, 20-gauge-steel casket has a white interior with firefighter imagery designed to pay homage to your loved one's service.
What Is The Fireman Prayer?
The Fireman's Prayer was written in 1958 by service member A. W. "Smokey" Linn, who experienced the tragedy of being unable to save three children who were trapped in a burning building. The poem is deeply emotional and requests that a higher power intervene and help firefighters hear the calls of those who need them. It also asks that the firefighter's family be taken care of if they are injured or killed in the line of duty.
Some families choose to read the Fireman's Prayer at a firefighter funeral. This reading can be carried out by a family member, friend, or fellow department member.
What Are Other Ways To Honor A Departed Firefighter?
Many fire departments host a more casual gathering with refreshments and places to sit and talk after a service like a wake or funeral. It's here that members, family, and friends can gather together to reminisce and begin the difficult process of moving forward without their loved one.
Some fire departments choose to display crossed ladders at their station, or even near the cemetery or funeral location, if the family so desires. This is a powerful symbol that honors the fallen firefighter.

How Do I Find More Information About Firefighter Funerals?
Titan Casket is dedicated to providing you with all the answers you need and helping you purchase the right casket for your departed service member.We are your trusted ally in planning the firefighter funeral you want at an affordable, fair price.