Top Red Funeral Caskets For Sale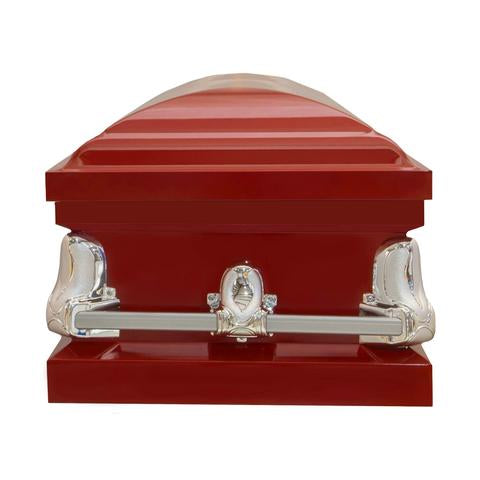 Here at Titan Casket, we are the leading casket manufacturer selling direct to customers. As a result, not only do we offer disruptively low pricing versus what you would pay at the funeral home, we also build to order coffins in 24 hours, and therefore can offer any style funeral casket in a brilliant red. Below are our top selling Red Funeral Caskets; all for sale at $999 or less. 
#1 -Titan Orion Series (starting at $1,099)
Titan Orion Series is our top selling series. Meticulously prepared in a high-gloss red finish, this coffin will impress with its sculpted, detailed hardware, squared-corner design, reinforced stationary handles, and 'soft to the touch' white crepe fabric interior. The Orion Series can be crafted in 18-gauge steel for $100 more.
#2 - Titan Panel Collection (starting at $1,199)
Since we build to order, we offer a wide variety of our most popular head panels on titancasket.com. Don't see one you like? Call us to request a custom head panel. The Titan Panel Collection coffins combine the craftsmanship and style of our Orion Series with a beautifully embroidered head panel to highlight a cherished aspect of your loved one's life. 

#3 - Titan Andover Collection (starting at $999)
What? But that beautiful coffin is 
Copper
, not 
Red
! No worries - since we can customize, simply ask us to make this beautiful casket with a red paint finish, and your wish is our command. The stately 
Titan Andover Series
 is built with high-quality steel and cuts no corners.

 At Titan Casket, we love offering colorful funeral caskets for sale. We sell Red Caskets, Purple Caskets, Pink Caskets, and even Orange and Yellow Caskets upon request. We can paint any casket you see on our site (or elsewhere) in a brilliant red. Best of all - since we sell direct to the public, our prices are remarkably low.