What Size Urn Will You Need For Your Dog?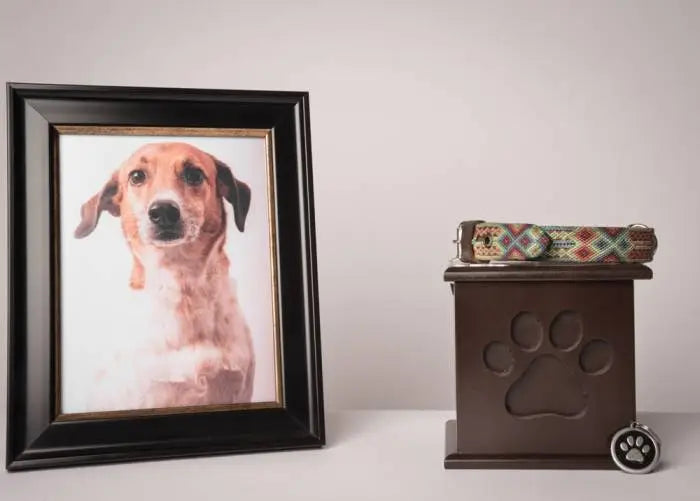 Introduction
As they say, "a dog is a man's best friend," so the emotional bonding with your dog will be the same as for any human. 
Knowing how to select the correct size urns for pet ashes is crucial, especially when planning a pet memorial for your dog. You'll need one cubic inch of space for every pound of your dog's weight. In addition to having precise measurements, having an extra ten cubic inches of space wouldn't hurt.
For example, if your dog used to weigh 30 pounds, you can consider dog urns holding up to 25 cubic inches of ashes. However, if your dog was a German shepherd that weighed 75 pounds, consider a pet urn that can accommodate 85 cubic inches. There will be no issue if the cremation urn is a little large. 
To remember the memories and days spent with your beloved dog passed on, you should have one of the best cremation urns for them. By storing their ashes, you can show how much they mean to you. 
Step By Step Guide To Determine The Right Dog Urn Size
Suppose you've never kept your pet's ashes as a souvenir before; it's more likely for you to get overwhelmed. You may have zero to minimum clue on the available styles and sizes of pet urns for dogs. However, the process is easier than what you may expect, and these steps will explain how: 
Step 1: Find Out The Weight of Your Beloved Dog 
Your dog's weight in life will impact its weight after its demise. A large dog like the Great Dane will produce more dog ashes than any small-sized dog like a Beagle. Most owners work alongside their vets regarding the cremation of the dog's remains.
Even if the vet doesn't provide this service, they can surely assist you in contacting pet crematoriums. Ask your vet about the weight of your dog after its demise. If not, at least ask them to tell your dog's most recent weight.
Step 2: Perform The Calculation
Before you buy cremation urns online for your deceased dog, you must know the right size of the urn. To know that, remember a precise standard equation.
Several individuals estimate that their dog's ashes will be around 3.5% of what they used to weigh. It means the weight of the cremated remains of a 40-pound dog will be about 1.40 pounds.
A more accurate and widely-followed equation is: you'll require one cubic inch of space for every pound of your dog's weight. After that, you must add an extra ten inches to the outcome. Thus, if your dog weighs 30 pounds, you'll have to order a dog urn with 40 cubic inches of space for ashes.
Step 3: Check The Product Description
Given the significance of dog urns in your life, you must consider reading and checking the product descriptions before making any purchase decision.
Make sure the urn provides information on how many cubic inches of space it avails for the ashes. Finally, choose the urn that meets your size requirement.
Famous Types of Urns For Large and Small Dogs
Now that you've got a foolproof idea of what urn size you need, you should consider the options available. Your style will influence a lot of your decision-making.
Many pet owners choose a modest urn that matches the original design, while others may look for something more customized. Here are a few famous types of urns for dogs. 
Biodegradable Dog Urns: If you don't plan to keep your dog's remains on display for a long time, you can use a biodegradable pet urn.
Traditional Urns: Choose a subtle, elegant dog urn that will blend into your home decor.
Some other popular dog urns include stuffed animal urns and stained glass urns. 
Cremation Jewelry: Besides the larger urn, you can keep your dog's ashes in some jewelry, like cremation urn rings. This jewelry will hold a small portion of your dog's ashes and come in different shapes and sizes. From pendants to rings, you can customize and store the ashes on any cremation jewelry you want.

Get The Best Urn To Pay Tribute To Your Beloved Pet Dog
Urns for dog ashes are an excellent way to showcase your love, affection, and care for your beloved dog. It's obvious to feel overwhelmed and depressed when you have to cremate a pet. In such an event, you may overlook what size urn to choose.
However, to cherish the good memories you've spent together, you must consider the right size and the ideal urn design for storing your dog's remains. With this guide, learn how to determine the correct urn size and get them from the top online retailer for pet urns.Titan Caskets do have a Pet Urns and Pet Casket collection where you can select one of the best looking urn for your pet.