What to Wear to a Winter Funeral: A Guide to Appropriate Attire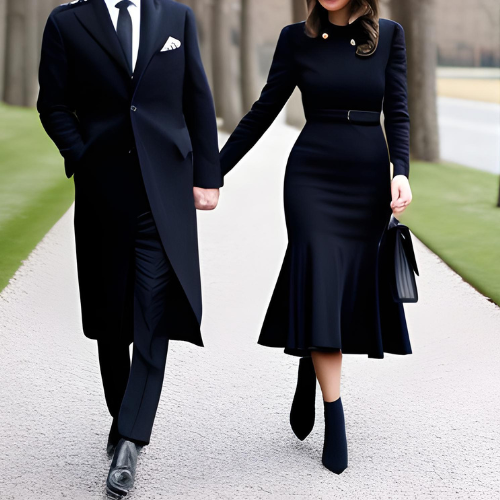 Losing A Loved One
There is no greater grief than the loss of a loved one. It is a heart-wrenching process that requires time and patience to get through. No matter how prepared you may feel, the feeling of loss is impossible to predict. In the aftermath of such a great loss, you shouldn't have to spend your time concerned with logistics and outfits, which seem trivial in comparison to the experience you're undergoing. This guide helps you choose an appropriate outfit for a funeral, so you can lighten your load in the midst of distress. 
When attending a funeral in the winter, it's essential to strike the right balance between staying warm and showing respect for the occasion. Winter funeral dress codes call for somber and respectful clothing that also keeps you comfortable in the chilly weather. In this guide, we'll help you navigate the delicate balance of what to wear to a funeral in winter.
Dressing for a Winter Funeral
Choosing the Right Fabrics: When selecting your attire for a winter funeral, opt for winter funeral attire made from warm, yet appropriate fabrics. Wool suits, cashmere scarves, and heavy cotton or velvet dresses are excellent choices. These materials provide insulation against the cold while maintaining a dignified appearance.
Layering for Comfort: Layering is key to staying warm while maintaining a polished look. For men, consider a black or charcoal gray suit with a warm overcoat and a classic tie. Women can choose a dark-colored dress or skirt suit paired with thermal tights and a cashmere cardigan. Don't forget gloves and a scarf to keep you cozy.
Appropriate Colors: Stick to darker and muted colors such as black, navy, charcoal, or deep burgundy for your winter funeral attire. These colors convey a sense of solemnity and respect, which is essential for such occasions.

Do you have questions about how to dress for a funeral? Titan Casket offers attire etiquette tips for funeral attendees.
Funeral Wear For Women
A Dress and Tights: For women, a simple dress is an excellent choice. It is both elegant and somber, and can be paired with tights if the weather is chilly. A-line, knee-length dresses are a largely appropriate option, and it is advisable to avoid any sequins, patterns or loud colors. 
A Blouse and Skirt: Wearing a smart blouse tucked into a long pencil skirt is also a great idea. It is solemn yet smart, and can be worn beneath a longer coat or shawl depending on the weather.
A Pantsuit: For women, a pantsuit is a formal choice that provides comfort and is appropriate for the occasion. Ideally, avoid color blocking and wear a dark, neutral single-tone pantsuit.
Accessories: For accessories, the simpler the better. Instead of wearing colored stones or beaded pieces, opt for minimalist metallic jewelry such as small gold hoops, a delicate chain and a simple ring.
Shoes: For footwear, you can avoid open-toed sandals or flashy textured shoes. Instead, opt for the classic ballet pump, a black heel or a pair of sturdy boots depending on the venue.
Funeral Wear For Men
A Suit and Tie: For men, the iconic suit and tie is a formal yet ostentatious option for both an indoors or outdoors service. Black trousers and a jacket, paired with a white shirt and black tie are suitable choices. 
A Sweater and Trousers: Another great choice is a plain sweater and trousers. This is slightly more casual, but when paired with dress shoes can be a dynamic and comfortable option
Trench coats: Trench coats are an excellent idea if the service is outdoors. Warm but sober, trench coats can be worn on top of any outfit to make it funeral ready. 
Accessories: For men, it is best to wear a charming classic watch, and perhaps a ring to a funeral. Any bright and busy accessory choices are best avoided, such as colored belts or large earrings. 
Shoes: Formal dress shoes are a natural choice, but you can also consider glossy black loafers, low-rise boots or simple sneakers depending on the venue.
Frequently Asked Questions
Can I wear a winter coat to a funeral?
Yes, you can wear a winter coat to a funeral. Choose a tasteful, dark-colored coat that complements your funeral attire.
What type of footwear is appropriate for a winter funeral?
Opt for dark, closed-toe shoes or boots with your winter funeral outfit to maintain a respectful appearance and keep your feet warm.