What Is A Cardboard Coffin?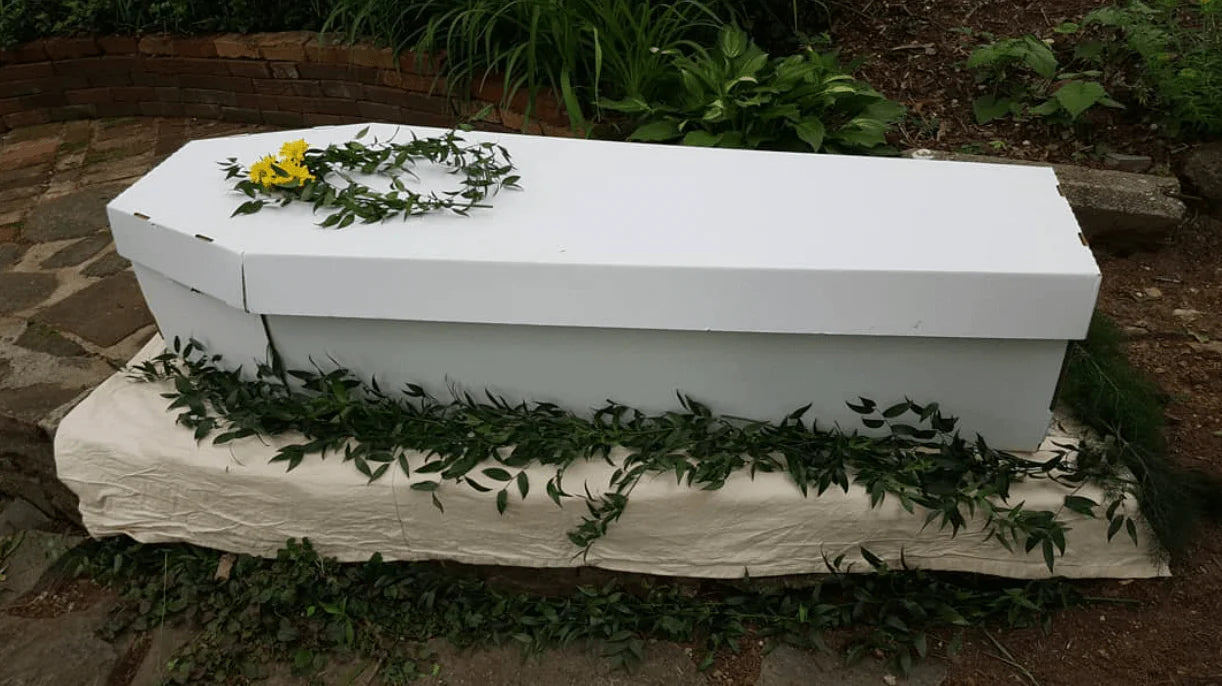 What Is A Cardboard Coffin?
Cardboard coffins are an alternative to traditional coffins or caskets. These are environmentally friendly, especially when you get a coffin made out of recycled cardboard. Cardboard coffins have lots of benefits to them. We will discuss this some more a little later in this blog. Cardboard coffins work as temporary coffins too. They are a highly preferred material when it comes to the cremation of coffins.
You must know that cardboard coffins are completely legal and can be used for both cremation and burial purposes.
What Are The Benefits Of Cardboard Coffins?
The reason that cardboard coffins gain popularity in today's world is because of their price point. Cardboard caskets are affordable and can reduce the financial burden of organizing a funeral service.
Along with this, it is a fact that cardboard, as a material, is low in carbon emission. They also have a lower carbon footprint, making this the perfect choice for an environmentally-conscious citizen.
If the deceased was someone that wanted to give back to the earth and lived a sustainable life, sending him/her/them off in a cardboard coffin would not only be respectful but considerate of the kind of person he/she/they were.
Personalize The Cardboard Coffin! 
One of the benefits of buying a cardboard coffin is that you can personalize the coffin to fit your needs. You can have the coffin made to the size that you prefer or even select the kind of cardboard (new or recycled) used to make the coffin. That's not all. If you're organizing a funeral for someone who was untraditional in their ways, you can include drawings and writing messages on the cardboard. The material allows you to use paint, stick pictures, and write anecdotes that you have shared with your loved one. If the deceased was a painter, you can use her/his/their painting material to decorate their coffin and plan a funeral that is reflective of his/her/their personality. 
How Much Do Cardboard Coffins Cost?
You can find a cardboard coffin online or in a funeral home. Cardboard coffins are readily available and affordable. They can cost less than $100. The white colored cardboard coffins and the brown ones are super pocket-friendly. If you're looking to organize a budget-friendly funeral service or are looking to buy a coffin that you can cremate or bury with ease, cardboard coffins make for an  inexpensive choice.
You can find some luxurious options too. Cardboard coffins can be made to have a wood-like finish and can come up to $400.
Another customizable option with cardboard coffins is that you can have a picture printed on the coffin. These coffins might cost you around $500. You can either print pictures of your loved one's favorite painting or have it customized to something that the deceased truly cared for. A coffin that can be printed on will always make for an extraordinary goodbye gift.
Why Choose Cardboard Coffins?
Cardboard coffins, contrary to belief, are durable in nature. These coffins do a decent job at protecting the body and containing it well, both in a cremation or burial situation. As you know, these coffins are eco-friendly. Make sure to get a coffin made out of completely biodegradable material, including the lid, for an environmentally-safe funeral. 
Apart from being low in cost, cardboard coffins are lightweight, making it easier to transport the coffin. A simple cardboard coffin can hold up to 300-pounds worth of weight in it.
You can also find plywood coffins if you're looking for something with extra support. Most cardboard coffins are fashioned with a bottom liner (check if the material is biodegradable) to prevent any leaks. Cardboard coffins are easy to move and are collapsible, making the coffin travel-friendly.
You can find enclosed, leak-proof, and durable cardboard coffins for cremation.

Bamboo coffins or bamboo caskets as the name suggests are made up of bamboo and are completely natural. Read on to learn everything about bamboo coffins.
Where To Buy Cardboard Coffins?
As stated earlier, cardboard coffins are easily available in funeral homes and online. It will be a faster and uncomplicated process to find one online. Online retailers can offer high-quality coffins that have the option of customization. You can choose the size, material and type of coffin. You can also look into cardboard caskets. Cardboard caskets have a different shape and cost a little more than a coffin but perform the same jobs as a coffin. You can find one easily on a website like Titan Casket.