When And How To Buy A Gold Color Casket?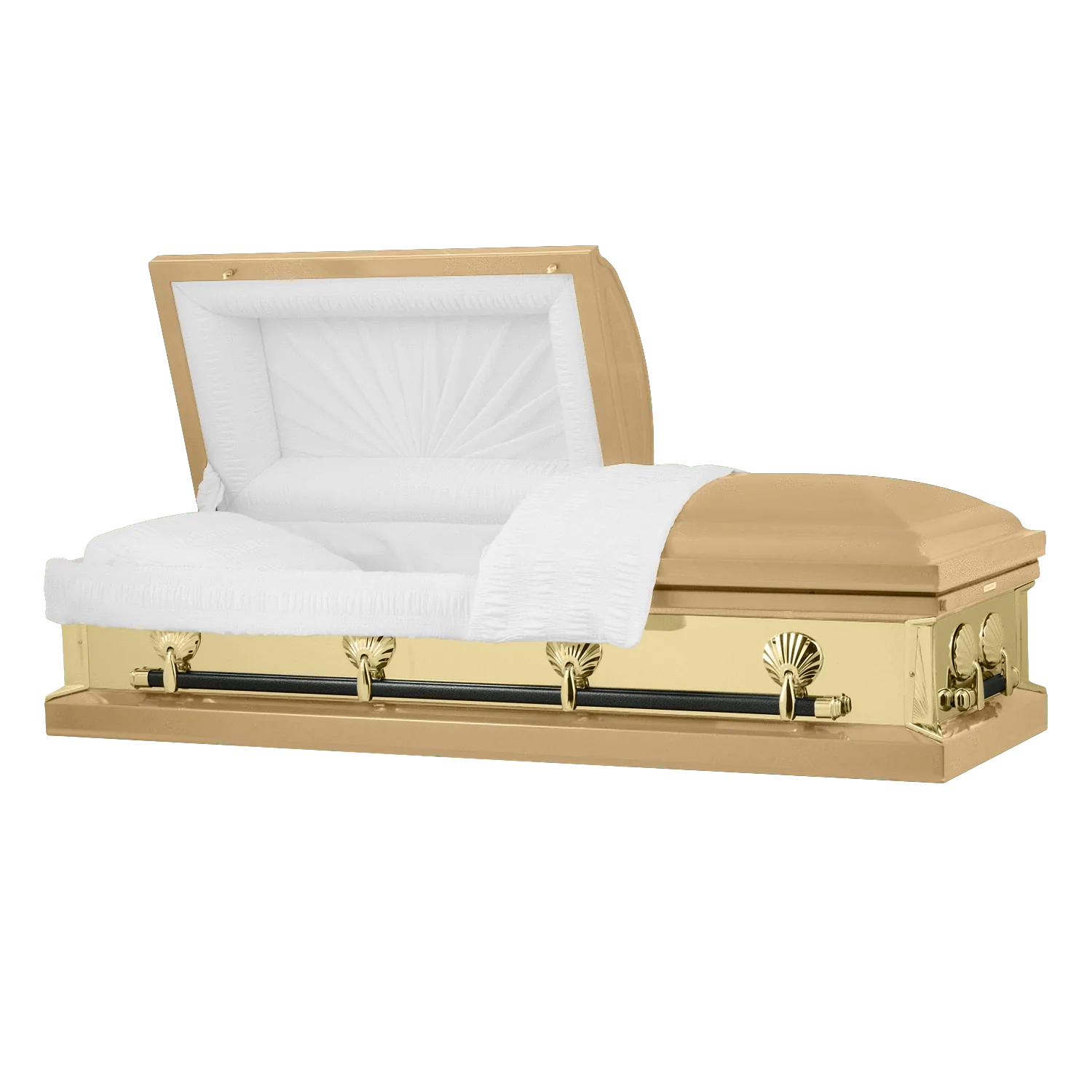 Introduction
Choosing a casket can be a sentimental and spiritual experience. Most people can look at a casket and know intuitively whether or not it truly encompasses the spirit of the life lost. It is perfectly natural to seek a casket that captures both the grief and the grandiosity of losing a loved one. If you are struggling to find a casket that feels authentic, a golden casket might be what you are looking for.
A gold color casket is usually chosen because it is a shiny casket with a luxurious feel. It is likely the grandest send-off you can give your loved ones. Despite the name, golden caskets are not made of solid gold. They are often made of steel and plated with gold to keep them affordable. If you are intrigued by the idea of a golden casket, read on to understand when and how to buy a gold color casket.
Because they are so luxurious, gold caskets are not high in demand, but there are notable times when they have been used. Many celebrities such as Aretha Franklin and Michael Jackson were both buried in Promethean caskets, which are golden caskets hand-made by the Batesville Casket Company. However, these caskets cost around $25,000 a piece and can take up to 200 hours to make, making them a rarity. 
If you yearn for just as grand a farewell for your beloved at a fraction of the cost, you can look into the newly launched "All Gold Era" casket by Titan Caskets. Similar in appearance to a Promethean casket, this casket, priced at $2499,  is the perfect option if you are seeking an opulent send-off for your loved one at a fraction of the price.
How To Buy A Golden Casket?
Golden caskets are undoubtedly more expensive than caskets without gold-plating, with the most extravagant one manufactured by The Golden Casket company having a price tag of $40,000. The high prices can be attributed to the cost of gold as well as the labor-intensive process. However, you do not necessarily need to rule out a golden casket right away as there is a wide range of choices even within this category.
The most affordable alternative if you have your heart set on a gold color casket is to opt for a stainless steel casket with gold-plating as per your desires, which can be bought for under $2,000 on Titan Caskets. You can get a casket with gold trim over a base color of your choice for the casket shell to give it a royal look without breaking the bank. For this kind of casket, green, red, and purple caskets are high in demand since they look very regal with a gold trim.
When To Buy A Gold Color Casket?
Fortunately, you have a lot of options at your disposal when it comes to buying a golden casket on the more affordable side, and stainless steel caskets with gold-plated shells are increasingly popular. But it is important to plan well and place your order in time because even though the casket is not made entirely of gold, the process of making it is still time-consuming and requires a lot of labor. 

Titan Casket has the largest selection of golden and rose gold caskets online, and they all ship immediately (like all caskets and coffins you find on our site). We make our caskets to order, so we are always prepared to fulfill any order without additional handling time.  All caskets with gold and rose gold can be shipped out the next business day.
Where To Buy A Gold Color Casket?
A golden casket provides an elegant finish to any ordinary metal casket. If you prefer a celebrity-like casket, Titan Caskets presents several options featuring eclectic designs for only 10% of the cost. All the caskets at Titan Caskets are customizable, so you can design them according to your liking and make independent decisions about the color combination, thickness, interior material, etc. 
A funeral is an important emotional milestone for the loved ones of the deceased too. If you truly feel that a golden casket is the most honest representation of the deceased's preferences, you should seriously consider a gold-plated stainless steel casket from Titan Caskets. With stainless steel caskets that can be gold-plated as per your requirements, your search for an affordable golden casket ends at Titan Caskets.