Our Guide To Buying A White Funeral Casket Or Coffin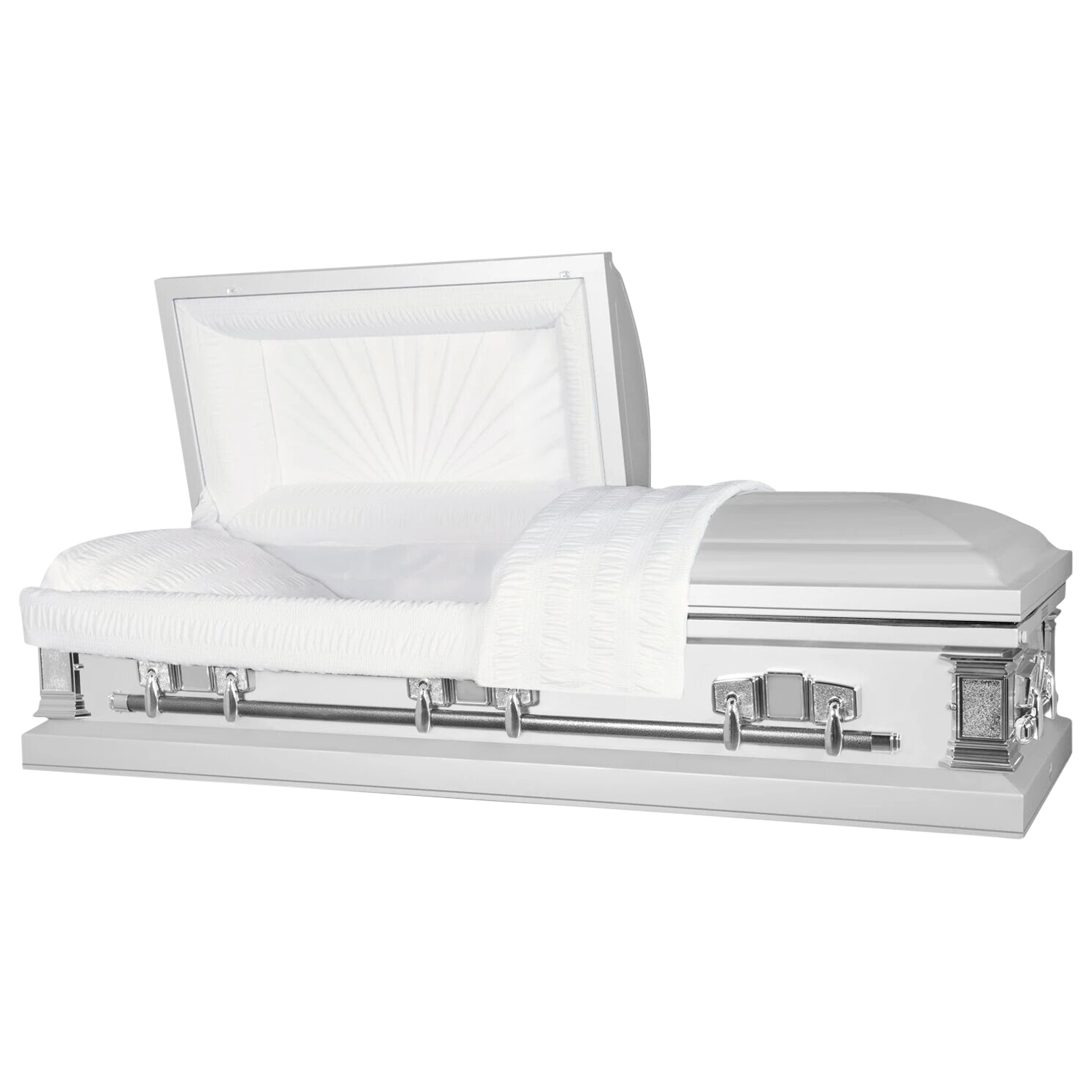 Above: The Titan Orion Series Steel Casket in White and Gold
TITAN CASKET'S COLLECTION OF WHITE FUNERAL COFFINS AND CASKETS FOR ANY BUDGET STARTING AT JUST $999
White funeral caskets and coffins are among Titan's most sought-after choices for families making funeral arrangements to honor their loved ones. With this in mind, Titan Casket has put together a useful buying guide to assist you in making the best choice during what can be a very challenging time.
Table of Contents


What Do I Need To Know Before Buying A Funeral Coffin Or Casket?
Titan Casket offers an endless selection of caskets and coffins for sale directly to the public. When you buy from Titan Casket, you can feel confident that your purchase will be shipped fast and free to the destination of your choice, and can customize to your specifications. Our customer care team will keep you updated and is available to answer questions 24/7.
How Do I Know Which White Coffin Or Casket Is The Right Choice?
Not all coffins and caskets are the same. While our high-gloss white finish looks beautiful on all models, there are other elements to consider:
What Interior Should I Choose With A White Casket?
While white crepe is the most popular choice for interior fabric, it is worthwhile to consider adding some contrast with a different color (such as pink or light blue), material (such as velvet), or head panel (such as "Mother" or "Father").
What Hardware Should I Choose When Buying A White Casket?
The style of hardware is guided by the model that you select. However, the color is up to you: stick with our suggestion, or make a change such as silver to goldtone or copper hardware. This type of casket customization is free of charge.

What Is The Best White Coffin Or Casket For My Budget?
Below is our buying guide for white funeral coffins and caskets to suit any budget, starting at $999. Don't see what you had envisioned for your loved one? Contact us at 1-501-420-3990 for help identifying something perfect for your loved one.
The Andover Series (starting at $999)

Our most economical white coffin is the Andover Series. Despite being an entry-level model, the Andover Series still offers many options, including the opportunity to have a completely white funeral casket, from the exterior to the interior to the hardware.

Shown here is the Andover Series Steel Casket in all white.

The Orion Series (starting at $1,099)

Our best-selling Orion series white funeral casket features such options as white with silver hardware or white with gold hardware. Customize further by changing to a new hardware color, selecting a different interior color or fabric, or adding a rubber gasket sealer.

Shown here is the Orion Series White & Gold Casket.

The Orion Panel Collection (starting at $1,199)

Our Orion Panel Collection takes our best-selling Orion Series coffins and adds an extra personal touch. Choose from our list of options, or call us at 1-501-420-3990 to inquire about any other special image you have in mind.

Shown here is the Orion Series White & Gold Casket with 'Flag at Rest' head panel.

The Paris Rose Casket (starting at $1,199)

A beautiful choice for the family matriarch, our Paris Rose funeral caskets feature such beautiful details as floral imagery, accent shading, and swingbar handles. Dignified and feminine, this carefully crafted white funeral casket makes a wonderful tribute to a special person.

Shown here is the Titan Paris Rose.

The Satin Series (starting at $1,199)

A step up from our Orion Series, the Satin Series features upgraded hardware and a swingbar handle. Our Satin White Casket has a luxurious and sophisticated look that is appropriate for a man or woman.

Shown here is the Satin Series White Casket with White Interior.

 We are committed to our mission of accommodating all our customers' needs, which is reflected in our extensive selection of oversize funeral caskets and coffins. Titan Casket carries oversize caskets in widths of 28", 29", 33", 36" and beyond, in all available colors and interiors. Oversize caskets in white are especially popular.  

Shown here is the 

Atlas XL Series Steel Casket in White and Pink

.

With Titan Casket's signature custom design tool, you have the ability to create an order to suit your own unique vision. Use our tool to make adjustments, try out colors, and experiment with different finishes. Most custom orders can be shipped within one business day. Need more assistance or want to customize further? Contact us in the chat or by calling 1-501-420-3990.