How Much Does A Graveside Funeral Cost?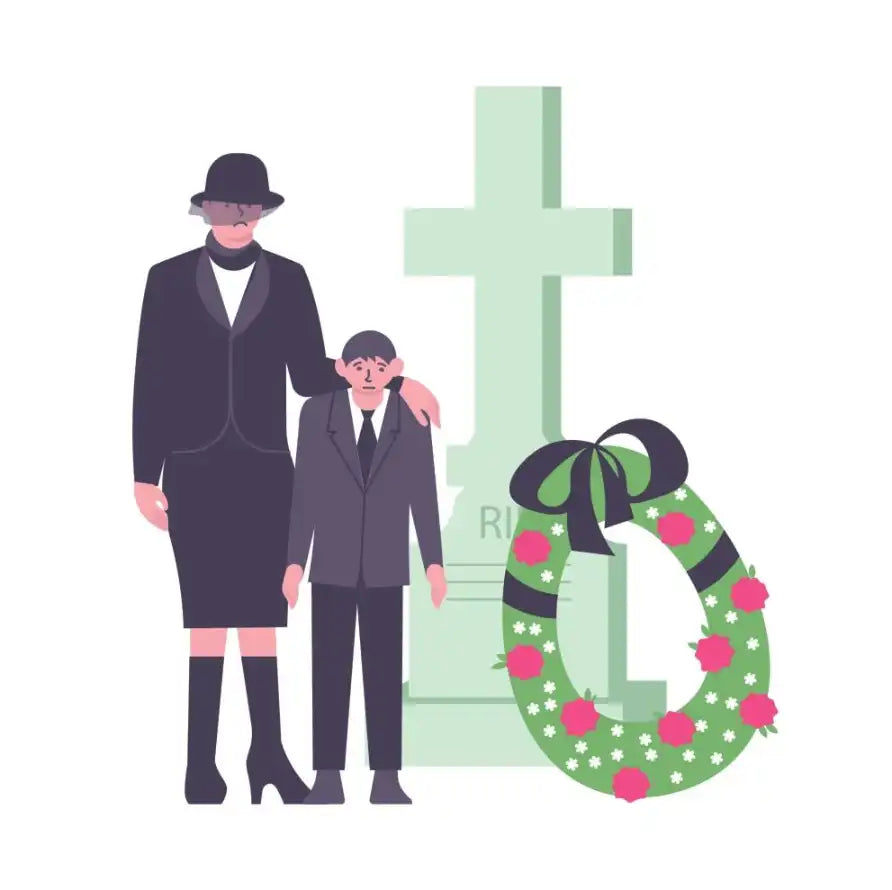 An average graveside funeral can cost up to $4,500, depending on various factors such as the elements of the service and the location, but the cost can be higher depending on the actual services enlisted. A lot of people choose a direct burial and a graveside funeral for financial reasons. Planning a funeral for a loved one is bound to be a challenging duty, not to mention the stress of arranging and managing the required funds. 
If you are in the process of funeral planning and are struggling to navigate the financial aspect of it, you might have a lot of doubts about funeral cost, funeral vs cremation cost, graveside funeral cost etc. A graveside funeral can be cheaper than most other options but there are some things you should know before you decide to opt for one.
What Is A Graveside Funeral?
A graveside funeral is a funeral service that is carried out directly at the site of the burial, usually in a cemetery. It is one of the most basic and therefore affordable options, but some people choose to do it in addition to a funeral service at a funeral home if funeral cost is not a constraint for them. 
In a graveside funeral, the casket with the body in it is usually placed on a stand near the grave, and there is a simple ceremony. You may opt to have a religious speaker such as a minister or you might ask loved ones to read eulogies. Some graveside funeral services might also include music played through a stereo.
Graveside Funeral Cost
The average final cost for a graveside funeral lies between $3000 and $4,500. The final figure does depend on variables such as the services you opt for, the state you are in, and whether or not you opt for viewing, although viewings are usually rare at these types of funeral services. If you skip the viewing, then you can also skip embalming, which itself can save you up to a thousand dollars. You should also factor in miscellaneous costs such as flowers if you plan on throwing them on the casket before the burial, or obituaries if you plan on publishing any.
The cost of a headstone can range from as low as $200 to as expensive as $10,000, depending on your preferences. The cemetery plot can cost you between $1,000 and $4,000, and the fees for a funeral director's services could be as much as $3,000. When it comes to caskets, the average price of buying a casket at a funeral home is $3,500, but you can easily save thousands of dollars when buying a casket online.
Managing Funeral Cost 
Many people experience the brunt of paying thousands of dollars for the funeral of their loved one. However, there are several strategies you can adopt to reduce the total funeral cost, including being aware of the Funeral Rule. Established by the FTC (Federal Trade Commission) in 1984, the Funeral Rule ensures that no funeral home can force you to opt for a funeral package or any extraneous services, nor can they deny you a casket bought elsewhere, even online.
The casket tends to be one of the biggest expenses of planning a funeral, so you can save tons on your funeral cost if you are able to save money on a casket. At Titan Casket we provide fully customizable high-quality caskets at a fraction of the prices charged at most funeral homes. You can buy our premium steel caskets for a price as low as $1,199, and cardboard and pine caskets cost only $499 and $799, respectively.
Should You Have A Graveside Funeral?
If you are trying to decide whether you should opt for a graveside funeral, take a moment to go through all the considerations. You should consider what the deceased would prefer, and if they had expressed any desires or preferences with regards to their funeral service. Another factor is the cost of a cemetery plot at the location you had in mind. The bottom line is that graveside funerals are quite common and can be a great way to cut down on the funeral cost while properly honoring the loss you have experienced.

Paying for funeral services can be challenging. Titan Casket offers this valuable guide to finding financial help while planning for a funeral.
Casket Pre Planning Made Easy
We'll help you purchase your pre-plan. You'll lock in today's price, ensure that your wishes are respected, and remove this financial responsibility from your family.